Recent grad hopes pitch competition is springboard to success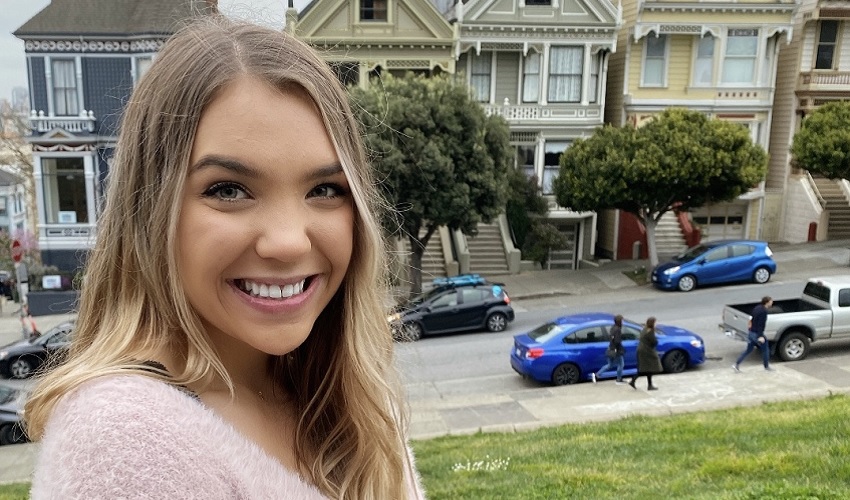 Hope Flores and her team took top honors in this year's Innovation & Entrepreneurship Pitch Competition with an idea judges deemed the (non-dairy) cream of the crop
Last summer, San Francisco State University senior Hope Flores had an interesting thought: Given the large market for dairy-free milk products, why hadn't anyone created one using lupini beans, a high-protein staple around the world for millennia?
This summer, as a newly minted San Francisco State graduate, Flores is asking a different question: Who's ready to invest in the Lupini Milk Company, Incorporated?
One backer, of sorts, has already stepped forward: This spring, Flores and four fellow team members won the $6,000 first place prize in the fourth annual SF State Innovation & Entrepreneurship Pitch Competition. Now Flores says the prize money is going towards legal and financial due diligence as the Lupini Milk Company moves closer to becoming an incorporated reality.
The inspiration for lupini-based milk came to Flores when she was thinking about her own diet. A runner and certified personal trainer, she wanted to switch to more plant-based foods without giving up protein. After realizing there were no lupini milk products available, she decided to try making one herself.
"I got the beans and soaked them and put them in a blender and hand-pressed them," she said. "I tried it in my grandparents' kitchen, and the first batch was amazing. It just looked like creamy milk. I didn't have to do anything to it. I was like, 'OK, this really works!'"
Over the next few weeks, Flores experimented with the recipe and had family and friends sample the results. The enthusiastic responses encouraged her to take the next step: bringing the idea to other SF State students through the University's Innovation and Entrepreneurship Fellows Program (IEFP), which is generously funded by MUFG Union Bank Foundation and the Lam-Larsen Fund for Global Innovation. Each year, IEFP selects five promising concepts for interdisciplinary teams of student fellows to develop together as part of a year-long mentorship cohort. Flores' lupini milk was picked last fall, and IEFP fellows Rhythm Kaur Gandhi, Angelina Healy, Lajja Shah and Pandora Sutherland teamed up with Flores under the guidance of Lam Family College of Business Associate Professor Sybil Yang, director of Innovation & Entrepreneurship Program Initiatives.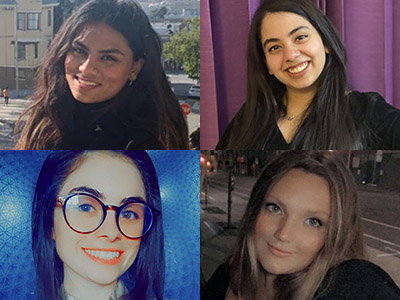 Clockwise from top left: Lupini Milk team members Lajja Shah, Rhythm
Kaur Ghandi, Angelina Healy and Pandora Sutherland
"Sybil is amazing. She's always helping everyone," Flores said. "She kept me grounded and motivated. She continuously showed up for her students and this program during one of the hardest years." 
"Hope and the students working on the Lupini Milk Company concept exemplify much of the entrepreneurial talent at San Francisco State. We have smart, driven, creative students with innovative ideas who are passionate about entrepreneurship but just need the guidance, structure, mentorship, coaching and, frankly, startup resources to bring their ideas to fruition," said Yang. "The Innovation & Entrepreneurship programs offered through the Lam Family College of Business were designed specifically to provide this type of support for students across the University."
Obviously, Yang isn't the only one to be impressed with the Lupini Milk Company team. In addition to being awarded first place by the panelist judges at this year's Innovation & Entrepreneurship Pitch Competition, they were also named "fan favorite" by the audience. Now Flores hopes to find more fans for their product as she searches for investors and tests it further at area farmers' markets.
"This thing just keeps taking off," Flores said. "I feel like everyone believes in this, so I've got to keep up with it and see where it goes."
Second place at this year's Innovation & Entrepreneurship Pitch Competition went to Localized, a geo-centralized e-commerce platform that allows consumers to enjoy the convenience and ease of use associated with multinational e-commerce platforms with the moral, ethical and environmental benefits of shopping small and local. Third place went to Adrenalyn, which aims to produce specialized track and field performance shorts for multiple events, solving the size, fit and overall functionality issues of performance shorts today.