Quest to find world's oldest Bible begins and ends at SF State
Chanan Tigay's quest to find the oldest Bible scrolls in the world and unearth the story of the antiquities dealer accused of forging them took him to eight countries on four continents and spanned four years. Meanwhile the clue that would help him solve the mystery was just footsteps away from his office, safely ensconced in San Francisco State University's J. Paul Leonard Library. 
Tigay, an award-winning journalist and assistant professor of creative writing at SF State, traces the steps of his incredible journey and discovery in his first book, "The Lost Book of Moses: The Hunt for the World's Oldest Bible," published by Ecco/HarperCollins.
The book is best described as "historical drama and a modern-day quest narrative," Tigay said, and its genesis can be traced to his own family roots. His father, Jeffrey H. Tigay, a Bible scholar, rabbi and now-retired professor, spent 16 years writing a 600-page commentary about the Book of Deuteronomy. "[Deuteronomy] was a word we heard in my house every single day growing up," Tigay said.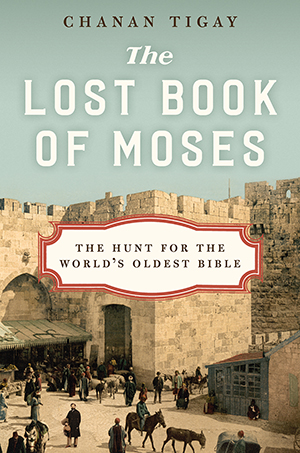 A story he was writing five years ago sparked a family discussion about biblical hoaxes, and the elder Tigay told the story of Moses William Shapira, an antiques dealer who owned a shop in what is now the Old City of Jerusalem. In 1883, Shapira, then 53, traveled to the British Museum in London with what he said could be an original copy of the book of Deuteronomy that had been procured through a Bedouin shepherd. His asking price — 1 million pounds — was equivalent to about 250 million dollars today.
As the museum studied the artifacts to confirm their authenticity, Shapira became the toast of London and was even lauded by Great Britain's prime minister. When the scrolls were determined to be fakes, Shapira left London, spent several months throughout Europe and eventually committed suicide in Rotterdam in 1884. The scrolls were sold at auction, but then mysteriously disappeared.
"Given my background — growing up learning about Deuteronomy and as an investigative journalist — I was fascinated and hooked by this story immediately," Tigay said. "I started digging."  
He discovered that two of the main reasons the scrolls were dismissed as fraudulent were that the inscriptions on the scrolls varied from the traditional biblical text used in churches and synagogues throughout the world, and that they were made of leather, which experts at the time said couldn't withstand extreme desert conditions for nearly 3,000 years.
"But when you fast forward about 70 years from the time Moses Wilhelm Shapira died to the discovery of the Dead Sea Scrolls in 1947, you see certain remarkable connections between Shapira's manuscript and the Dead Sea Scrolls," said Tigay.
Like Shapira's documents, the Dead Sea Scrolls were found by Bedouin shepherds in the same vicinity near the Dead Sea, contained numerous variant readings from the traditional text of the Bible and the leather did indeed survive in the same rugged environment for centuries. 
"What if Shapira's manuscripts were dismissed too hastily when archeological knowledge and knowledge of science was not as sophisticated?" said Tigay. "One by one, the arguments against the authenticity of Shapira's manuscripts go out the window, and it increasingly begins to look like he discovered the first Dead Sea Scroll 70 years before the others were discovered. I quickly realized that the only way to determine if in fact that was true was to look for and find the scrolls."
"The Lost Book of Moses" is told in chapters that alternate between telling Shapira's story — who he was, where he came from and what made him tick — and describing Tigay's own hunt for the scrolls that took him to Israel, Jordan, England, Germany, France, the Netherlands, Australia and then ultimately back home to San Francisco.
When Tigay joined SF State in 2012, he learned by happenstance that the Adolf Sutro Collection in the University's J. Paul Leonard Library holds a collection of more than 100 manuscripts that were once owned by Moses William Shapira. But he put off going to view the collection because he knew they'd still be there and — "like the Liberty Bell where I grew up in Philadelphia" — he took them for granted. "I also knew, for a variety of reasons, that the scrolls themselves would not be there," he added.
Finally, about a week before the book was due, Tigay visited the collection and made an extraordinary discovery that allowed him to prove whether or not Shapira's scrolls were authentic, bringing his four-year journey to its conclusion. "For me, it was nothing short of miraculous. I had to run home and rewrite the entire end of my book," he said. No spoilers here —Tigay prefers that the mystery's ending not be revealed in this article.
"Ultimately, what became most compelling to me was learning about Shapira the man. In another country, in another era, he would have been held up as an example of the American Dream," Tigay said. "He pulled himself up by his bootstraps, he beat back prejudice and illness and poverty and turned himself into a respected businessman who was taken seriously by the leading scholarly minds of the day. Ultimately his demise is tragic, and that is true whether or not the documents he is accused of forging were real or fake."