Promising student filmmaker snags prestigious award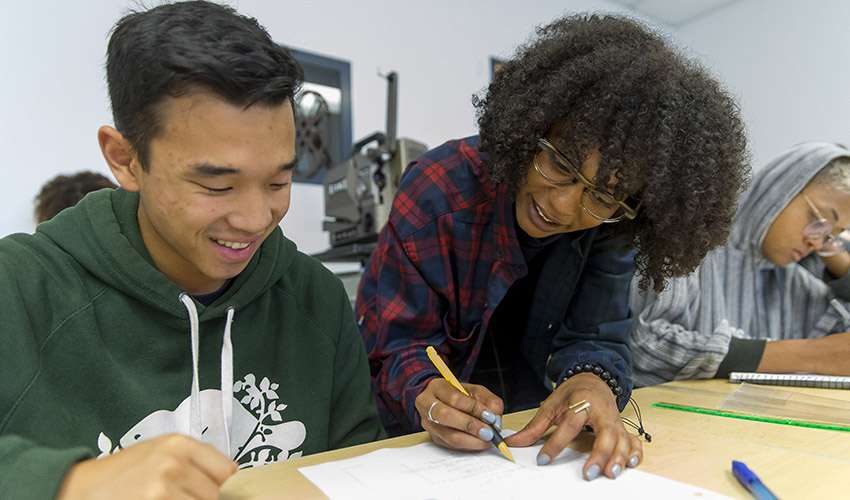 Princess Grace Award will fund production of MFA candidate's thesis film
Anaiis Cisco may be living in the Bay Area, but New York City — and more specifically Brooklyn — are in her heart and in her films. The San Francisco State University School of Cinema graduate student has set two of her films in her native Big Apple borough, and she's about to embark on her third New York City production for her thesis project.
For most cash-strapped graduate students, filming across the country would be out of the question. But Cisco, one of last year's California State University (CSU) Trustee Award recipients, received a $27,656 Louis B. Srybnik Film Award from the Princess Grace Foundation that will cover her travel and production costs.
The Princess Grace Foundation – USA helps fund emerging talent in the arts through scholarships, apprenticeships and fellowships. Prince Rainier III of Monaco established the organization to honor his late wife, American actress Grace Kelly. This is the third year in a row an SF State graduate student in the School of Cinema has claimed the prestigious prize. Alumnus Javier Roberto Carlos Briones, who won a Princess Grace JustFilms Documentary Award in 2013, also picked up a Special Project Award from the organization this year.
Cisco will accept her award at a gala on Oct. 16 in New York City. "The great thing about this award is that the Princess Grace Foundation supports you throughout the whole process of making your thesis," Cisco said. "In addition to the grant, you can apply for training and workshops to help you grow as a filmmaker."
Her thesis, a 15-minute narrative film titled "Drip Like Coffee," is an intimate portrait of an African American woman who works as a barista in a coffee shop. She develops romantic feelings for her female coworker, which ends up complicating her relationship with her boyfriend.    
"These women are attracted to each other while in relationships with men, making it difficult for them to explore a queer romance. That's until the protagonist finally invites her coworker over," Cisco said. "When the two women end up kissing, the protagonist's boyfriend walks in on the intimate moment. That's when she's confronted by her desire for a woman and need for space from her boyfriend."
The film explores themes of space, desire, intimacy, black womanhood and love through the kind of characters that rarely get the spotlight. "While there are a lot of films that feature representations of black and queer figures, I struggle to find a film, web series or TV show that has a black queer protagonist who is a woman," she said.
SF State Professor of Cinema Celine Parreñas Shimizu is Cisco's advisor and nominated her for the Princess Grace Award precisely because of the themes she explores. "In the history of cinema it's more frequent for us to see black pathology, like violence, crime, pain and suffering," she said. "We tend to ignore the exploration of black intimacy and love. And if this does happen it's primarily from a heterosexual point of view. Anaiis steps into that tradition and gives it a queer perspective."
The film is personal and reflects Cisco's exploration of her own sexuality. "I'm structuring a narrative that's inspired by my life," Cisco said. "It's not autobiographical, but it's a personal film. I'm committed to telling this story in way that not only helps me work through my experience but also helps other people who are coming to terms with their identity." 
Cisco possesses a voice that will not only diversify Hollywood and the film industry, but will also take film language to peaks of expression we have not seen, Shimizu adds.