Professor's podcast makes philosophy fun for young listeners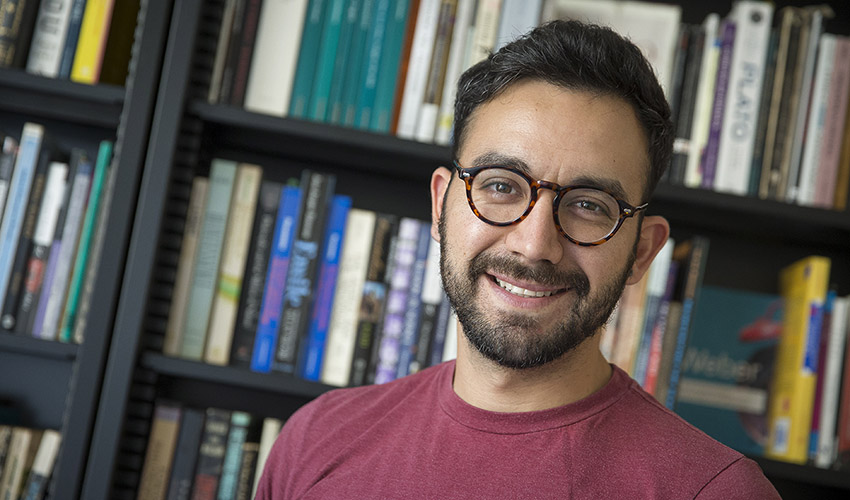 "Overthink" appeals to Millennials and Gen Zers by connecting the field's big questions to everyday modern life
A new philosophy podcast co-hosted by Assistant Professor of Humanities and Liberal Studies David Peña-Guzmán might be titled "Overthink," but that's not what he wants for his listeners. Peña-Guzmán says the podcast is about showing young people that centuries-old philosophies are still relevant — and easy to relate to — today.
Peña-Guzmán launched "Overthink" with co-host Ellie Anderson, an assistant professor of Philosophy at Pomona College, last November. In each installment, the duo discuss philosophy through the prism of 21st century culture, often inspired by hot trending topics on social media. Episode titles include "Conspiracy Theories," "The Problem with Ghosting," "Speaking Truth to Power," "Anti-Maskers and American Individualism" and "Me, Myself and Zoom" — all subjects that the hosts' students are already thinking (and perhaps overthinking) about.
"Younger people are already very intellectually curious and are often seeking resources for making sense of the world around them, and we believe philosophy can help in that regard," Peña-Guzmán said. "Perhaps because we are educators, we see it as our mission to reach out to younger people. It's just that we want to do it in a new, more personal, less formal way."
Friends from graduate school, Peña-Guzmán and Anderson keep the tone of the show light despite the sometimes heavy subject matter. Though it's a discussion between two academics, they want it to sound more like a fun chat over coffee.
"In this podcast, we take off our professor hats. We don't want to turn our listeners into students," Peña-Guzmán said. "We want listeners to see themselves as overhearing a conversation between friends."
The two hosts met a number of challenges while getting the podcast up and running. They originally planned for Peña-Guzmán to meet Anderson once a month at Pomona College in Claremont, California, to record the podcast in a professional campus studio. However, the pandemic hit and the two had to come up with creative ways to record episodes elsewhere. Anderson took her microphone into her closet because the enclosed space and clothing kill reverb. Lacking a closet big enough to serve as a makeshift studio, Peña-Guzmán was forced to find a different solution.
"I had to essentially build a fort with blankets, kind of like a child," he said.
Despite their not-quite-state-of-the-art recording techniques, Peña-Guzmán and Anderson hope "Overthink" reaches a wide audience. They'll be particularly thrilled if the podcast encourages a new generation of young thinkers to explore philosophy.
"I want philosophy to get into peoples' bones and for them to be out and about in their everyday lives and something reminds them of what we talked about in the episode," Anderson said. "Or they're really excited to tell their friend or roommate about what they learned in the episode, and that sparks a conversation. Sparking conversation is always a goal."
Listen to "Overthink" on Spotify or Apple Podcasts.