Professor transforms Philippines-styled tricycle into street-legal sculpture and karaoke machine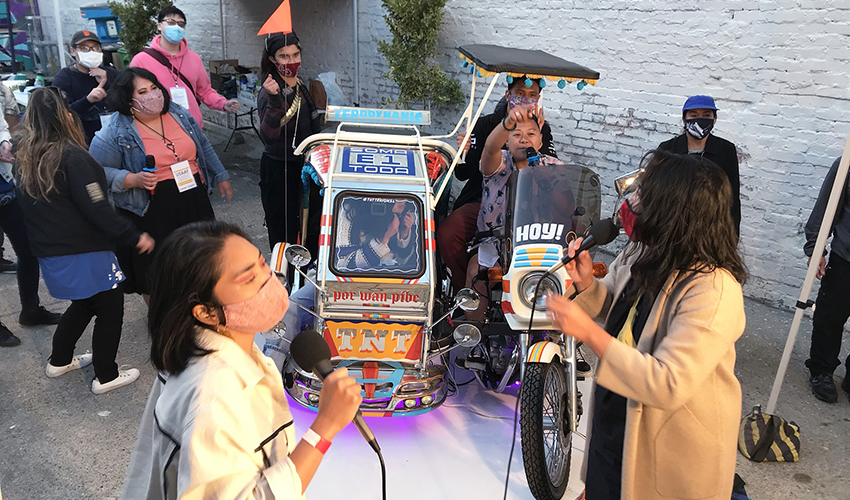 General public invited to sing karaoke at St. Joseph's Art Society in San Francisco
A loud and colorful vehicle is turning heads all over the Bay Area while also spurring conversations on immigration and colonialism. San Francisco State University Associate Professor Michael Arcega is one of two artists at the helm of the TNT Traysikel, a custom-painted 2003 Honda Rebel motorcycle connected to a tricycle sidecar outfitted with a karaoke machine and flashing lights.
Built with grants from several organizations, including the San Francisco Arts Commission and San Francisco State's College of Liberal & Creative Arts, the TNT Traysikel is more than a cool ride. Created by Arcega and independent filmmaker Paolo Asuncion, it's a new piece of art based upon a familiar mode of transportation in the Philippines.
"We get a lot of thumbs up. Filipinos recognize it immediately. They go so far as stopping traffic to acknowledge us, or want to take a picture, flagging us down," said Arcega, who teaches in the SF State School of Art.
Motorized tricycles are a common sight on the streets and roads of the Philippines, Arcega and Asuncion explain. Both men grew up in the Philippines and say they relished every opportunity to ride the tricycles before immigrating to the U.S.
Pinoy my ride
TNT Traysikel is not the kind of car restoration shown on reality television. A distinctly Filipino object in a distinctly American city, it is designated by the South of Market Pilipinas Cultural Heritage District as an official cultural marker. It is a symbol of immigration, Filipino American achievement, displacement and structural racism. "TNT" stands for Tago ng Tago, a Tagalog phrase that translates to "always hiding"; it is used to describe an undocumented person.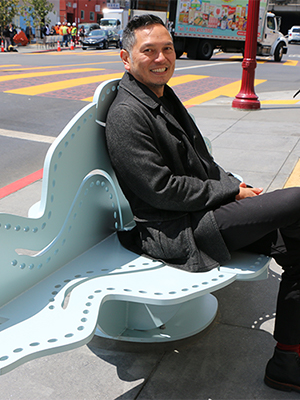 SF State Associate Professor Michael Arcega
Arcega and Asuncion purchased the sidecar, made by a small manufacturer named Hercules, from a pastor who had imported it from the Philippines. They enlisted the Handsome Asians Motorcycle Club for repairs and Bay Area sign designer Michelle "Meng" Nguyen for painting. Much of the construction was done in the sculpture area in the Fine Arts Building in summer 2019.
'SideCaraoke'
Wherever the sputtering vehicle goes, its karaoke machine is the biggest crowd pleaser. This year, dozens of people have sung along at public events at the Exploratorium, SFMOMA, Portsmouth Square, Kapwa Gardens and St. Joseph's Art Society. It has brought the community together in a safe, judgment-free environment during a pandemic. ABBA's "Dancing Queen," Fugees' "Killing Me Softly with Your Song," Journey's "Don't Stop Believin'" and Frank Sinatra's "My Way" are the most popular karaoke numbers.
When the songs end, "SideCaraoke" transforms into "Taxicab Confessions," as Asuncion describes it. People open up to talk about their lived experiences from the Philippines to the U.S. Soon, these stories and songs will appear in a documentary series directed by Asuncion and funded with a second grant from the San Francisco Arts Commission.
"Folks who are homesick or just haven't been to the Philippines in a while see TNT Traysikel, and immediately they are transported back to where they last saw one or their last ride," Arcega said. "It's familiar, it's comforting, it eases you, it grounds you. It's like this conceptual, emotional hug."
The TNT Traysikel returns to St. Joseph's Art Society for a Karaoke Night from 4 p.m. to 8 p.m. Sept. 17, Oct. 3 and Oct. 17. St. Joseph's is located at 1401 Howard St. in San Francisco.