SF State professor reflects on Juneteenth: 'a reminder that freedom isn't always free'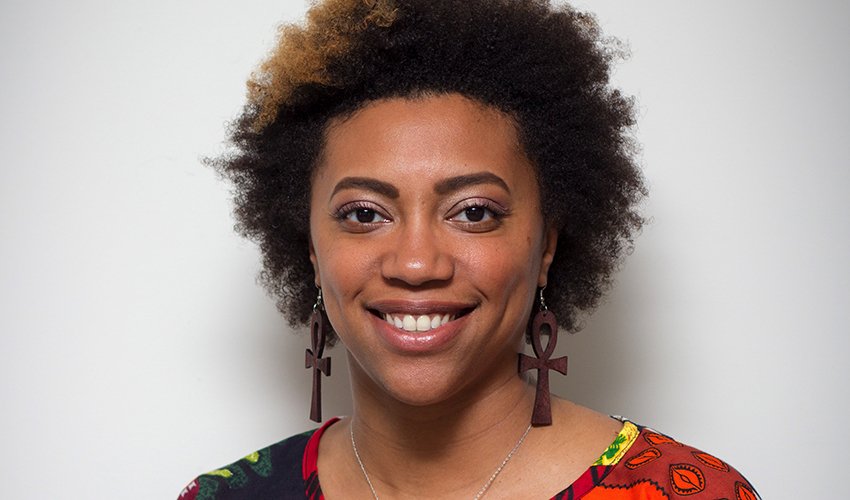 Assistant Professor of Africana Studies Doñela Wright looks back on the history of the celebration, now a federal holiday
U.S. President Joe Biden signed a bill today creating the first new federal holiday in decades: Juneteenth, the African American celebration of emancipation and freedom from chattel enslavement in the United States.
The holiday commemorates June 19, 1865 — "Juneteenth" being a combination of the words June and nineteenth — when a Union officer informed enslaved Africans in Galveston, Texas, that they were no longer in bondage. To mark the day last year, we asked San Francisco State University Assistant Professor of Africana Studies Doñela Wright to give us a deeper look into the history of the holiday and the celebration's importance. The interview is reproduced below.
Didn't the Emancipation Proclamation end slavery years earlier?
History tells us that the initial draft of the Emancipation Proclamation was issued on Jan. 1, 1862. It did not, however, free enslaved persons of African descent, but rather stopped slavery within the seceded states (the Confederacy). Enslavement continued in neighboring northern states such as Illinois.
The Emancipation Proclamation was ratified on Jan. 31, 1865 with the 13th Amendment, marking the day when slavery was formally abolished in the U.S. However, enslaved Africans were not informed until June 19 of the same year when Union Major General Gordon Granger gave his orders [one of which informed Texas residents that slavery had been ended] in Galveston. Interestingly, Confederate Gen. Robert E. Lee did not surrender to Union Gen. Ulysses S. Grant until April 9, 1865. And yet enslaved Africans did not know this until months later on June 19. The delay is significant in multiple ways and provides critical context for today's discussions on the treatment and view of African Americans.
I always like to remind my students that there were no cell phones, internet, computers and television when thinking about how critical information was relayed and disseminated during the 19th century. To that point, if the Confederacy was still fighting until April or May 1865, then it makes sense that enslaved Africans would not know about their freedom until a little later. To place this within context of our current climate, the deliberate withholding of liberty then speaks volumes about the treatment of African Americans in this country now. People of African descent have had their freedom delayed since they were stolen from their motherland, and even [now] they have yet to see their liberty manifested.
What are ways we can celebrate Juneteenth?
Juneteenth is simultaneously a collective and individual commemoration and celebration. Collective celebrations typically include a myriad of activities that are primarily anchored with culturally affirming and historically relevant events that address specific community needs. These include educational and social service events catered to African American families as well as music, dance and cultural festivals.
People interested in supporting Juneteenth only need to look into local events where they live. [Those interested in celebrating in the Bay Area this year can find several lists compiled by local news outlets, including this one from ABC7.]
What are some of your favorite memories celebrating Juneteenth over the years?
One of the largest Juneteenth celebrations took place in Philadelphia. I lived there while earning my doctoral degree, and I remember attending the city's Juneteenth celebrations and being reminded of homecomings at the historically Black colleges and universities I attended. I was overwhelmed by a reflection of myself: a sea of colorful, deep, expansive and proud expressions of Africanity on full display. Whether there was a spoken word artist performing, a vendor selling djembe drums or the smell of shea butter and white sage mixed with incense in the air, it was beautiful and affirming to see all manners and methods of Blackness being embraced and flaunted by persons of Africana descent.
When I attended my first Juneteenth celebration in Oakland, I experienced the different expressions of Africana people in the Western U.S. Being from Maryland, I do not often see cowpeople, and I was surprised to see Black cowboys and cowgirls prancing in the parade. Seeing their revelry, I was reminded that Africanity is engaged, understood and embodied differently, yet feels very similar, wherever Black people are located. Juneteenth is celebrated in the best ways that Africana people know how to express themselves: by showcasing their talents, providing resources back into their communities and supporting Black-owned businesses.
What makes the holiday special and important to celebrate today?
Juneteenth is the public celebration of Africana liberation and freedom in the U.S. It's a reminder that freedom isn't always free, and that freedom looks, feels, is expressed and ritualized differently. Juneteenth is a reminder that victory was and will always be ours.