SF State to recognize 12 outstanding graduates during 2019 Commencement ceremony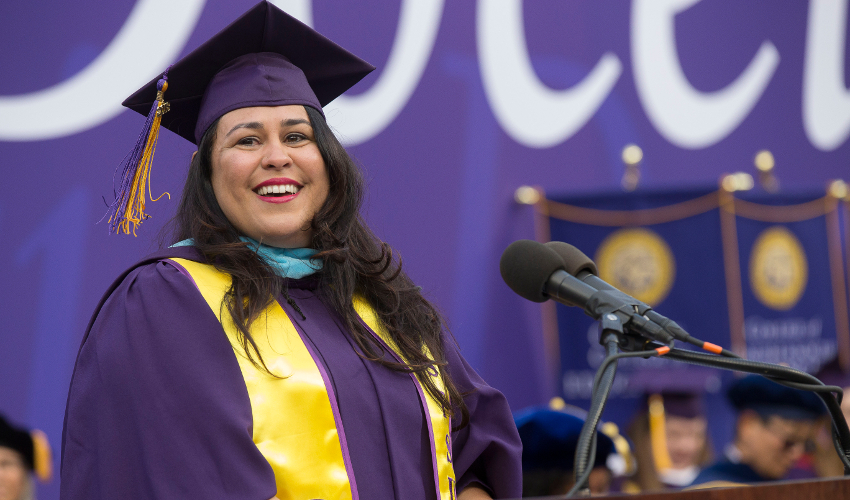 Honorees' aspirations include research, activism and nonprofit work
Twelve outstanding graduates will be onstage at Oracle Park during San Francisco State University's 118th Commencement ceremony on Tuesday, May 28, to represent their more than 8,700 peers in the class of 2019.
The honor is part of a longstanding tradition in which each of the University's six academic colleges selects two students, one undergraduate and one graduate, for the honor of representing their classmates during the ceremony by wearing their college's academic hood.
Two of the 12 honorees will deliver comments during the ceremony to their classmates and an estimated 30,000 friends and family members. More details about the ceremony are available at commencement.sfsu.edu.
Student Speakers
Maria Jose Lozano Sanabria, College of Liberal & Creative Arts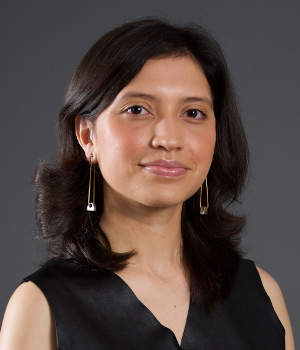 Maria Jose Lozano Sanabria moved to the United States from her native Colombia when she was 14. That experience as a child migrant informs the work and research she does today around migration policies. Sanabria served as managing director of the International Relations Journal as well as the project assistant for the College of Liberal & Creative Arts' Social Science Alliance.
Her thesis on transformative justice in post-conflict settings explores methods of peace building and conflict resolution. Fluent in English, Spanish and French, she will attend the prestigious Sciences Po University in Paris for graduate school.
Alexis (Lexi) Adsit, College of Ethnic Studies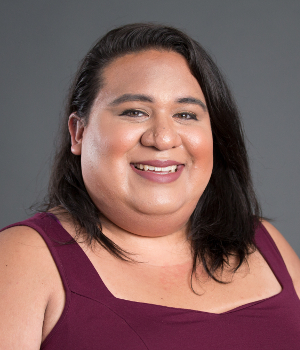 As a Mexican American, Alexis Adsit says she chose San Francisco State's College of Ethnic Studies not only because of its rich history but also the welcoming environment it offers to people of color. Her thesis is a field study that delves into the power of performance for marginalized groups in the LGBTQ community. She has worked with local arts organizations such as Peacock Rebellion, an East Oakland-based crew of artists and activists who are queer and trans people of color.
Adsit also received her undergraduate degree from SF State in women and gender studies, and as a transgender woman she was active with the LGBTQ community on campus, contributing to the creation of the Queer & Trans Resource Center. She has received two fellowships to pursue a doctorate in feminist studies at the University of Minnesota.
Graduate hoods
Bozhidar Chakalov, College of Business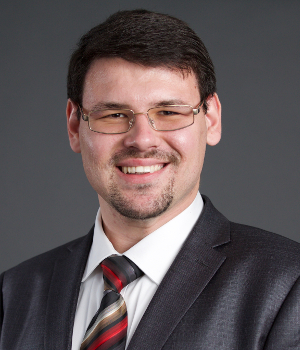 Originally from Sofia, Bulgaria, Bozhidar Chakalov showed an interest in health care as an undergraduate student at Sonoma State University. As a graduate student in Economics, Chakalov has co-authored research with his mentor, Assistant Professor of Economics Sepideh Modrek, applying new methods of text analysis to the #MeToo movement. His findings were presented at several conferences and are currently under review for publication in the Journal of Medical Internet Research.
During his time at SF State, Chakalov has served as a graduate mentor to the Economics Student Association and also taught in the Big Data Summer Program, which helps students develop the ability to do research and conduct data analysis in social science and health-related fields. He plans to continue building his research skills and pursue a Ph.D. in Economics with an emphasis in Health.  
Jennifer Levine-Smith, Graduate College of Education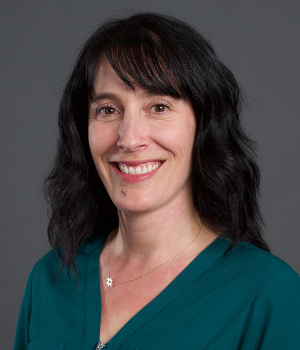 In her years of work in education, Jennifer Levine-Smith witnessed firsthand how the U.S. education system fails to serve students of color and those from low-income families. In search of solutions, she decided to pursue a deeper understanding of systemic injustices in education. Now she's graduating from SF State with an M.A. in Equity and Social Justice in Education.
Her thesis research details the progress in a rural community in the North Bay as community members work to undo the racial stratification present in a local school. She has presented her work at a number of conferences and in 2018 won one of two graduate student research awards conferred by the California Education Association. Levine-Smith plans to continue her organizing work and activism around education while doing impactful educational research with deep roots in the community.
Jodi McWhirter, College of Science & Engineering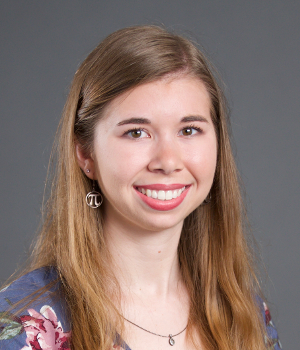 Jodi McWhirter is the daughter and granddaughter of math teachers. After earning a B.S. in mathematics from Calvin College, she went on to SF State, where she found both a community of fellow students excited about studying higher mathematics and a field of math she could call her own, combinatorics. She will receive an M.A. in Mathematics from SF State and hopes to publish some research from her thesis, titled "Ehrhart Quasipolynomials of Coxeter Permutahedra." 
Outside of her research, McWhirter held officer roles in Mathematistas, a group working toward gender equity in math. She also led the creation of a seminar series in which students practice giving talks about their research. In the fall she will continue to study combinatorics in a Ph.D. program at Washington University in St. Louis.
Lori Pirinjian, College of Liberal & Creative Arts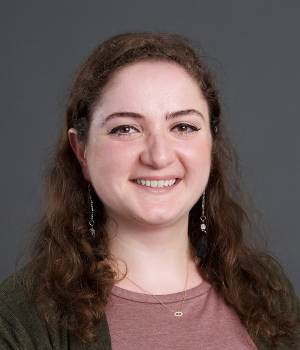 Lori Pirinjian uses critical feminist anthropology to look at contemporary Armenian women's roles in an environment unreceptive to equal rights for women. Her work, which she has presented at several conferences, draws on overseas fieldwork, legal cases, social media and her personal experience as an Armenian American.
In 2016, Pirinjian wrote and taught curricula on gender equality and women's empowerment in Armenia as a teaching intern for the organizations Peace Dialogue and Society Without Violence. She gathered research about the patriarchal framework in Armenia and how it creates distinct gender roles and gender-based violence. She has received the Armenian-American Citizens' League Scholarship, a Title VIII Fellowship from the State Department and a Jay Young Excellence in Anthropology Award. She was also a research assistant on the Richmond Environmental Risks Project and the San Francisco Day Labor Program.
Nico Storrow, College of Health & Social Sciences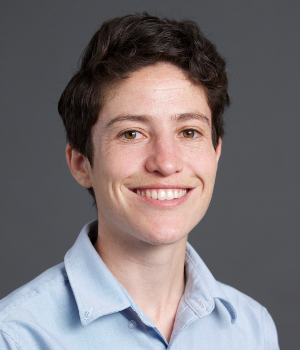 As a teenager, Nico Storrow (pronouns: they/them) experienced the isolation that can accompany coming out as queer and trans and saw how important it was to meet others who encountered similar challenges. That has driven their passion for working in schools to build community and provide accessible mental health services.
Storrow will graduate with an M.S. in Counseling with a concentration in Marriage, Family and Child Counseling and an emphasis in School Counseling. While at SF State, they provided therapy and facilitated support groups in year-long internships at Martin Luther King Jr. Middle School, Pinole Valley High School and the San Francisco nonprofit Queer LifeSpace. Along with conducting research and serving as a student leader in the Counseling Student Association, Storrow also worked as an instructor for the International Institute for Restorative Practices throughout their time in the program.
Undergraduate Hoods
Yusra Mohamed Ali, Graduate College of Education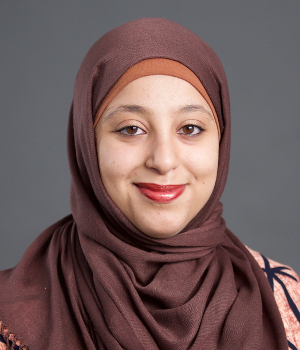 Yusra Mohamed Ali draws her inspiration from her parents, who brought her and her siblings to the U.S. from Yemen when she was a baby. Their encouragement to pursue an education led her to become the first in her family to attend college. She is graduating with a B.S. in Communicative Disorders, the culmination of her childhood goal of becoming an educator and her desire to make a difference in children's lives.
While at SF State, Ali served as a tutor for incoming juniors in Anatomy and Physiology courses and volunteered at the Scottish Rite Childhood Language Center to teach creative writing to fourth- and fifth-grade students. She also worked as a teaching assistant in SF State's Early Childhood Education Center working with 3- to 5-year-old children. Ali will return to SF State in the fall to work toward an M.S. in Communicative Disorders.
Nirajan Chand, College of Health & Social Sciences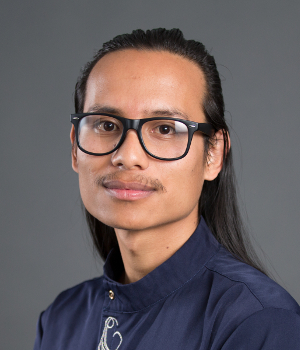 Nirajan Chand was born in Nepal in the midst of a civil war. The violence he experienced in his youth fueled his ambition for a life of public service, a goal sharpened when he pursued a B.A. in Criminal Justice Studies from SF State.
At the age of 16, Chand started a four-month journey to the United States, exposing him to the hardships experienced by many in South and Central America. Upon arriving in the U.S. without documentation, he was detained for six months — time he used to study social injustices and teach himself English. After eventually enrolling in Berkeley City College, Chand transferred to SF State, where both the University's history of activism and his courses inspired him to deepen his commitment to social justice and human rights. Chand has been accepted into the human rights education graduate program at the University of San Francisco.
Mariah Manibusan, College of Ethnic Studies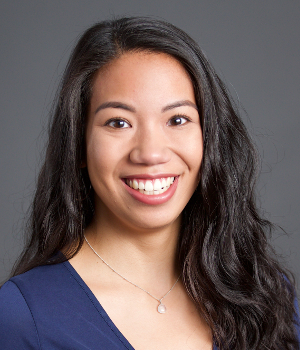 As a peer mentor for SF State's Asian American & Pacific Islander Student Services Office, Mariah Manibusan combined her interest in teaching with a passion for ethnic studies to mentor first-year students, an experience she describes as deeply personal and rewarding.
The San Jose native was also a resident assistant for the University's first Asian American and Pacific Islander floor on campus, hosting annual Sexual Assault Awareness programs every April. She was named Resident Assistant of the Year two years in a row and founded the first Residential Housing Association Asian American and Pacific Islander organization in the United States. Through the group, she created plans for educational programming and community engagement. Upon graduation, Manibusan plans to work with nonprofit groups serving the Asian American and Pacific Islander communities.
Olivia Tsai, College of Business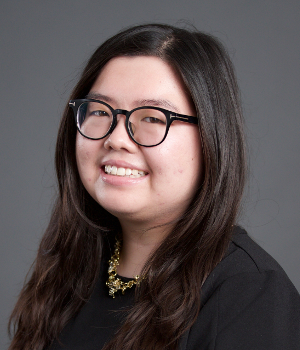 Olivia Tsai is a Bay Area native who is passionate about helping people. In high school, Tsai performed more than 700 hours of community service for the elementary and middle school that she once attended in Pacifica. She brought that commitment to service to SF State as a Decision Sciences and Finance major.
Tsai was a student panelist at the Wiley Teaching and Learning Summit, speaking about trust and engagement in the classroom. For the past two years, Tsai has been a tutor for both the Decision Science Department's operations management course and the Finance Department's business finance course. She also served as president of the Decision Sciences Student Association and led a group of students to the Bay Area Decision Sciences Summit.
Chloe Zirbel, College of Science & Engineering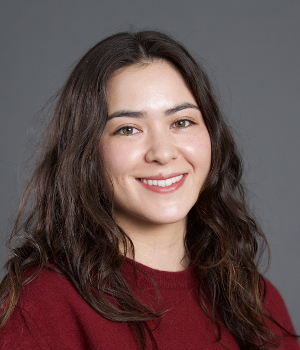 After creating an augmented reality mobile application for an internship, Chloe Zirbel saw potential in the technology that went far beyond video games. Zirbel is graduating with a B.S. in Computer Engineering, and her research has been focused on developing a low-cost, interactive, virtual reality system to aid the rehabilitation of stroke survivors. She won first place for this work at the 2018 CSU Research Competition in the area of undergraduate engineering and computer science, and later that year she was the first author of a peer-reviewed paper on her research published in the Proceedings of the 2018 IEEE Global Humanitarian Technology Conference.
After graduation, she plans to pursue a software development job at a Bay Area company with a strong sense of social responsibility and a mission of making the world a better place.