Opening the classroom doors wider in SF State Inclusion Pilot Project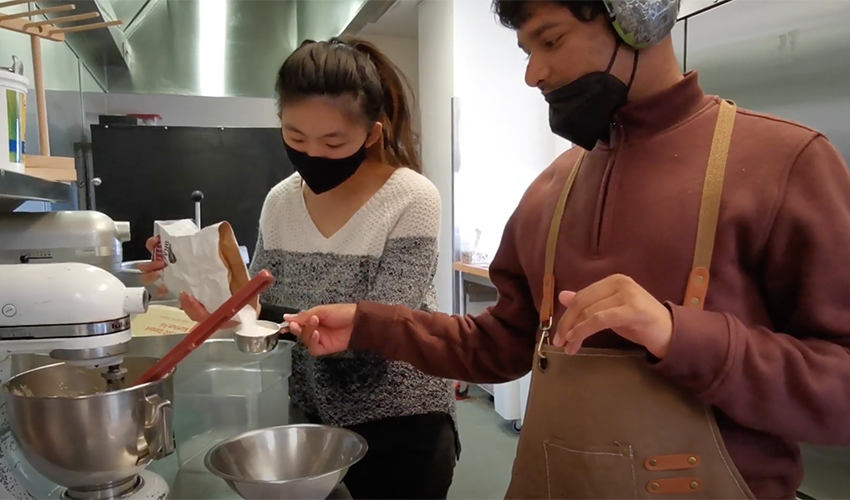 College of Extended Learning program opens learning opportunities to people with intellectual and developmental disabilities
Despite the 45-mile commute to the San Francisco State University campus, Ishaan Joshi doesn't mind arriving hungry. He nourishes his stomach, and mind, in the plant-based cooking class he takes in the Vista Room restaurant in Burk Hall.
Joshi is one of five students taking San Francisco State classes through the Inclusion Pilot Project (IPP). Launched in 2021, the certificate program allows young adults with intellectual and developmental disabilities to weave themselves into the fabric of campus life and gain academic, social and career experiences. It is the only program at a Bay Area doctoral institution that offers postsecondary education opportunities for young adults with intellectual and developmental disabilities. It's also the only one that is inclusive — meaning that students with and without disabilities take classes together.
"This program at SF State has helped me learn a lot of new ways of cooking. I have gained more confidence and am able to cook independently," Joshi said using his augmentative and alternative communication device. He is a vegetarian whose parents accompany him to campus from their home in Dublin every week.
English Language and Literature Professor Julie Paulson and Special Education Associate Professor Kathleen Mortier (M.A., '98) received a Development and Research Creativity grant from SF State to create the pilot program. Following that, the program has relied on donations and other funding sources.
"My personal goal is that anybody can come to San Francisco State. Wherever you are on the disability spectrum, there is a place here for you," said Paulson, the mother of a child with Down syndrome. "I think it's critical that we have people with intellectual and developmental disabilities on campus to participate in conversations about the disabilities that they have and how they're served."
Paulson also cites a need to provide career-related knowledge and skills to people with intellectual and developmental disabilities. In 2016, the statewide employment rate was 14% for people with developmental disabilities and 35% for people with all types of disabilities, according to the California State Council on Developmental Disabilities. Postsecondary education for people with intellectual disability has proven to be both cost-effective and cost-efficient, according to a 2018 study published in Inclusion, a journal of the American Association on Intellectual and Developmental Disabilities. The 2019 – 2020 national Transition and Postsecondary Programs for Students with Intellectual Disability report shows positive outcomes for students in postsecondary inclusion programs, including a 59% employment rate and a 78% program completion rate.
Rianna Diaz, a senior majoring in Speech, Language and Hearing Sciences, has been serving as a peer mentor for two semesters for Joshi and one other IPP student. Diaz says the project will help her achieve her goal of becoming a school professional in the San Francisco Unified School District (SFUSD). Now that she is able to be in person with them, the value of her experience is compounded.
"With in-person, I get to know him a little better and his quirks," she said. "It helps me understand him better as a learner and as a person."
Her studies and personal experience made her an advocate for inclusive learning for people with disabilities. Her brother was a special education student, and she believes he would have benefited from being integrated into a more blended classroom.
"There's usually a divide," said Diaz, an SFUSD alumna. "Even when I was in high school, the special education students were in the back of the school. They were completely separate from the general education classes."
IPP students enroll through SF State's College of Extended Learning. Then, in collaboration with the project staff, they develop an individualized schedule that aligns with their personal, academic and career interests and goals. Special Education Assistant Professor Mayumi Hagiwara oversees logistics by collaborating with campus entities (such as the University's College of Extended Learning) and community service providers (such as the state's Department of Rehabilitation). Each IPP student is paired with a peer mentor, coordinated and supported by Special Education Lecturer Sadie Egan (B.A., '11; M.A., '14).
"Everybody has been keen to join us in exploring the inclusion journey at SF State," Hagiwara said. "We appreciate each instructor, peer mentor, the College of Extended Learning and other campus collaborators."
After graduating, Ash Verwiel (B.A., '21) started to serve as a peer mentor to an IPP student Auggy Garcia and has supported Garcia in Cinema and Comic Studies courses for two semesters. They have collaborated on several projects, combining Garcia's talents as a comic artist and Verwiel's expertise in film production.
"I've grown a lot as an artist and person since attending SFSU," Garcia said. "It's great to feel like everyone else and not be treated differently."
Verwiel added: "It's made me grow as a human and made me be more patient and more clear. It's been great to connect and make something together that we enjoy."
Joshi's parents credit IPP directly for significant improvements in their son's confidence, as SF State marked the first time in his life that he took a class with non-disabled students. They also appreciate Ishaan's SF State cooking instructor, Chef Tim Shaw, for his support over three semesters.
"Going to a university itself is a great achievement for Ishaan and for us," his mother Bhakti Joshi said. "He is getting a full arena to meet people, which I don't think would have been possible otherwise without the [Inclusion Pilot Project] team."
You can learn more about the Inclusion Pilot Project online or by contacting Hagiwara at mhagiwara@sfsu.edu.