Novelist Tommy Orange accepts SF State's Gina Berriault Award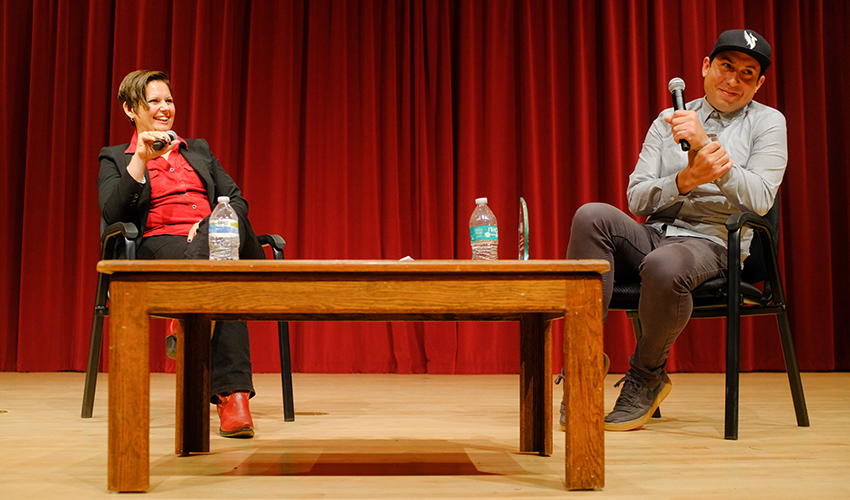 Award-winning author Tommy Orange discusses his writing process, feeling like a fraud and how reading influences his writing
Tommy Orange, author of the acclaimed novel "There There," spoke with San Francisco State University Assistant Professor of Creative Writing Carolina De Robertis in Knuth Hall Oct. 15. Orange was named 2019 Gina Berriault Award winner, a San Francisco State honor.
The award, named after the late author and beloved faculty member, is given to writers who embody Berriault's love of storytelling and commitment to supporting emerging writers. Orange's debut novel, which received the 2019 PEN/Hemingway Award and was nominated for the Pulitzer Prize and National Book Award, tells the multigenerational story of Native Americans in Oakland whose paths cross at the city's powwow. Orange has been widely praised for giving voice to an underrepresented community.
Orange talked to students, faculty and staff about his writing and editing process and battling his inner demons. "More than 50 percent of writing is revision," he said. "The feeling like I want to write something new, is a great feeling. And the next day you're like: 'This is amazing; I'm great.' But so soon after you're like: 'Oh my God, this is so stupid.'"
It's been a year and half since he published his novel and saw his life transformed, yet he still feels like a fraud, he told audience members. "The feeling [of being an imposter] — I don't think it ever goes away," he said.
To hear the full conversation watch the video below. 
WATCH: An Evening with Author Tommy Orange
Event sponsored by the George and Judy Marcus Funds for Excellence in the Liberal Arts.