Novel by alumnus/faculty member explores impact of anti-LGBTQ tropes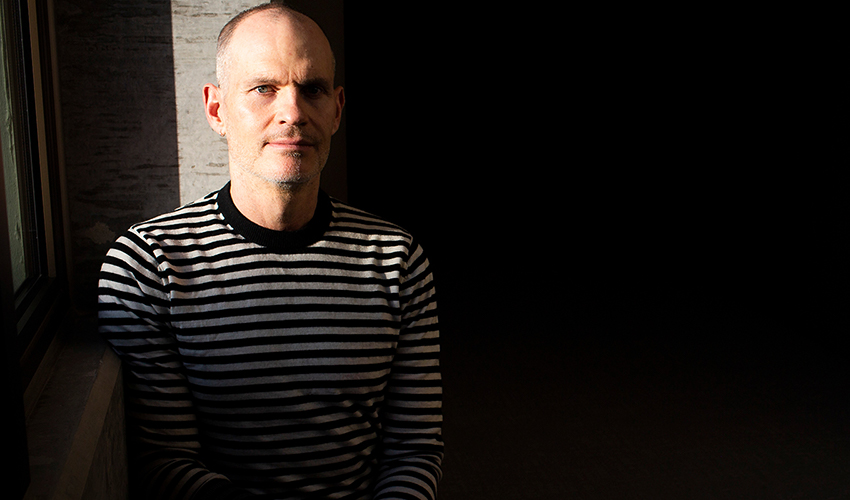 Matthew Clark Davison has gone from teen runaway to SF State writing instructor to debut novelist
After dropping out of high school and running away from home in the 1980s, Matthew Clark Davison found himself bewildered in San Francisco during the AIDS epidemic. Fortunately, a writing class in the basement of the Tenderloin's Glide Memorial Church showed him a new path — one he's still on today. Taught by celebrated poets June Jordan and Janice Mirikatani, the class liberated Davison to showcase his true self in his writing without worrying about playing down vital aspects of his life in order to assimilate or fit in. Davison went on to study fiction writing at San Francisco State University and become both a full-time lecturer in the Creative Writing Department and a ubiquitous presence in the city's writing community.
Now, with the June 8 release of "Doubting Thomas" (Amble Press), he's something else, as well: a debut novelist.
"I had such spectacular teachers who helped me think differently about the world I lived in," Davison said. "I was still working out some anger when I came to San Francisco State because of what was happening to my friends with AIDS and the government's lack of response and funding toward research. My teachers helped me figure out positive ways to channel that frustration and injustice into an art form."
"Doubting Thomas" starts out in Portland, Oregon, and follows the life of an out fourth-grade teacher after he's falsely accused of touching a student. Found innocent, he's still forced to leave his job.
"What is seemingly a book about scandal and betrayal becomes, in Davison's skilled hands, a prismatic view of one man's grappling with the complexities of family, community, history, memory and self," author Zoela Renee Summerfield (B.A., '08; MFA, '10) said.
"Tales of the City" author Armistead Maupin describes "Doubting Thomas" as "an electrifying debut" and calls Davison "a force to be reckoned with." Writers Michael Cunningham, Justin Torres, Ann Packer and T Kira Madden are also champions of the book.
Davison says he is less interested in exposing anything, instead focusing on exploring what it means to be one's siblings' keeper and how one recovers from a life of being presumed guilty, then punished for something one didn't do. The premise of the novel is inspired by Davison's fascination with what it means to be the queer one in a group of brothers. An event he witnessed inspired the story's allegations.
"I had been trying to write about my brothers for years, and I couldn't quite figure out what I actually wanted to say," Davison said. "Then this real-life thing happened — this horrible accusation. Somehow those two things in my artist's imagination combined, and I started weaving them together."
The novel also explores the dangers of anti-LGBTQ tropes and the illusion of political and social progress.
"I hope people that shield themselves from other peoples' realities will at least have a harder time doing that," Davison said. "In order to be a nation of citizens, we need to be aware of what one another are going through on some sort of level."
Connection and nurturing understanding are important to Davison. After earning both a B.A. and an MFA in Creative Writing at SF State, he founded the Lab Online and the Lab Live — hubs for sparking creativity and honing skills with fellow writers. Former "Labbers" include author Allison Hoover Bartlett, poet Natasha Dennerstein, artist Zach Grear and writer/filmmaker and SF State MFA student Celeste Chan. As Davison sees it, helping others find their creative voices is a way to pay back the teachers who made such a big difference for him.
"The fact that I was validated and taken seriously by the faculty in the Creative Writing program is something that I appreciate and want to pay forward," he said.
You can read an excerpt of "Doubting Thomas" in The Advocate. The San Francisco bookshop Booksmith will host an online launch party for the novel 6 p.m. Tuesday, June 8. The event is free and open to all ages, but an RSVP is required.