New data science certificate aims to open doors to biotech jobs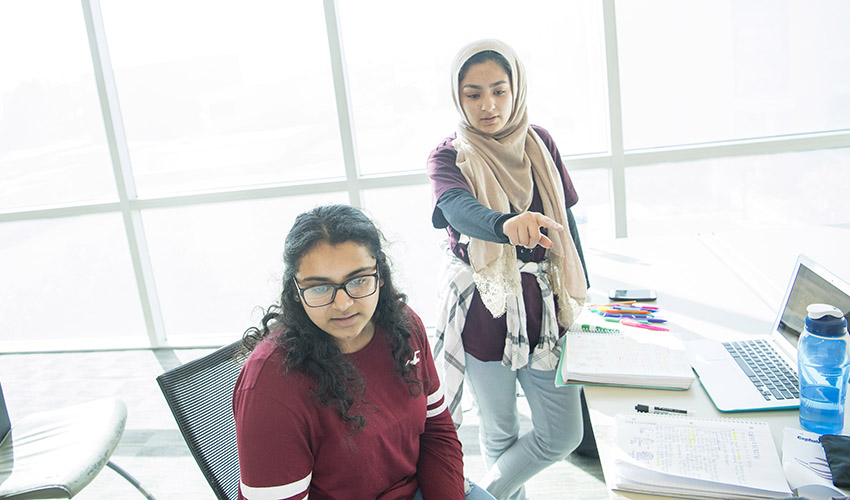 Launched this fall, the Data Science and Machine Learning for Biotechnology certificate was developed in collaboration with Genentech
A new certificate program developed in collaboration with one of Silicon Valley's biggest biotech companies will do more than teach San Francisco State University undergraduates about the interdisciplinary field known as data science. It'll help them develop the skills they need to land jobs as data scientists.
Launched this fall, the Data Science and Machine Learning for Biotechnology (gSTAR) certificate program grew out of an already flourishing collaboration between San Francisco State and Genentech. Any SF State undergraduate student, regardless of major, is eligible for the certificate as long as they meet the program's minimal prerequisites and complete six designated courses. The classes ground students in data science — an interdisciplinary field that gleans actionable insight from large volumes of data — while emphasizing professional development through rigorous mock interviews, elevator pitches and more. SF State biology and computer science faculty worked directly with Genentech scientists to develop the curriculum.
"We used our internal computational experts who also hire computational talent to help us build this curriculum," said Joy Branford, R&D people and culture strategic HR leader at Genentech.
That kind of practical, real-world input makes the program unique — and uniquely helpful — for undergraduate students hoping to jump-start biotech careers, says SF State Associate Professor Anagha Kulkarni, who is spearheading the program. Since the undergraduate population is large and diverse, Kulkarni hopes that hiring from this pool may help more women and people of color enter the biotech workforce. The problem is that biotech rarely recruits undergraduates directly after college and, prior to gSTAR, data science and professional development opportunities for undergraduates have been limited.
"I'm hoping that this certificate opens doors and opens eyes as well on the industry side to the potential of undergraduates in the workforce," she said.
The new certificate falls under the College of Science & Engineering's larger Promoting Inclusivity in Computing (PINC) program, a computer science program tailored for biology and chemistry students like Elizabeth Mathiasen. A fourth-year physiology major, Mathiasen describes herself as a nontraditional student because she is over the age of 40 and has teenage kids.
"Basically, it's all geared towards preparing you for the things that we don't usually get a lot of guidance on, and it really makes the process of planning your future a lot less daunting and a lot kinder, I think," Mathiasen said about her current gSTAR course. After just a month of classes, Mathiasen says she's already boosted her professional internet presence, learned how to improve her resume and gained insight into life at a biotech startup.
"It's been really exceptionally useful," she said, "and it also just helps so much with the imposter syndrome."
The gSTAR certificate is just one notch in SF State's and Genentech's goals to promote inclusivity in biotech. Kulkarni has aspirations to develop more industry partnerships to continue growing PINC and the certificate program. Long term, there are also plans to possibly open the certificate to individuals outside of SF State and establish similar programs at other educational institutions. In the meantime, Branford says the collaboration already represents a win for the entire industry.
"I really see this as a way to pipeline that next generation of scientists," she said.
Learn more about the Data Science and Machine Learning for Biotechnology (gSTAR) certificate program.