Mashouf Wellness Center receives LEED Platinum certification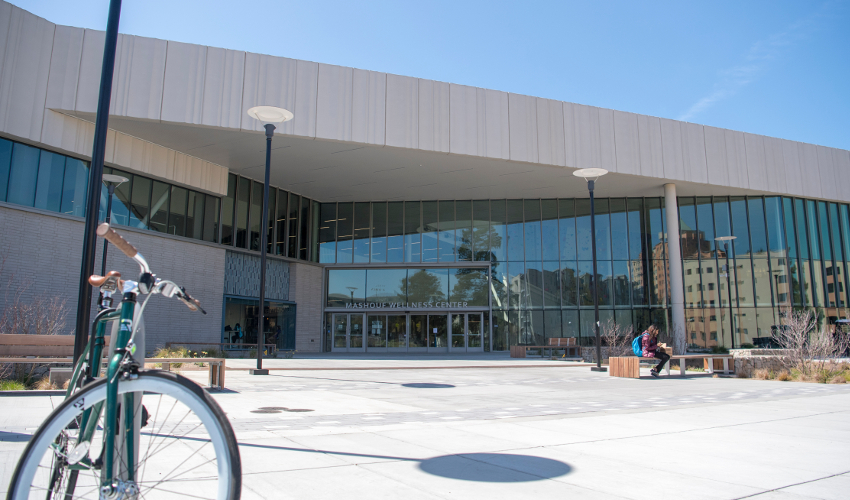 Building sets the bar for future sustainable construction on campus 
San Francisco State University's Mashouf Wellness Center is a place students come to stay healthy, from taking yoga classes to scrambling up the signature climbing wall. And behind the scenes — through its pools, gardens and lightbulbs — the building is designed to keep the environment healthier, too. It's that side of the center's operation that was acknowledged on Oct. 15 with a LEED Platinum certification, the top LEED rating for green building design.
"It's our first building on campus to get any LEED certification, so it's really exciting that we're at the highest level," said San Francisco State Director of Sustainability and Energy Caitlin Steele. "There are very few recreation centers around the country that have achieved LEED Platinum."
LEED, or Leadership in Energy and Environmental Design, is a certification program run by the nonprofit U.S. Green Building Council to promote efficient and environmentally friendly buildings, and LEED Platinum is the highest of its four ratings. The push for this lofty goal for the Mashouf Wellness Center came from SF State students, who were involved with the building's design and planning process from the start. "They're funding the building through their student fees," Steele said. "And they created and helped design a building that has less of an impact on the environment and its surroundings."
While LEED Platinum is a difficult bar to clear for any building, it's especially challenging for recreation centers, which come with specific hurdles — like the need to heat and supply water for pools. Meeting the goal required a suite of innovations inside and outside the Mashouf Wellness Center, especially for water conservation. "There's an entire gray-water system that uses pool runoff and the water from the sinks and showers," Steele explained. "That water is reused within the building for toilet flushing and is also going to be used for landscaping outside." The building saves up to 600,000 gallons of water annually thanks in part to this innovative system.
Outside, the center's gardens are full of drought-tolerant native plants, arranged to make the most use of any rainfall. And thanks to the building's rooftop solar panels and carefully designed heating and cooling systems, it uses around 55% less energy than the average building of its type.
No details of the construction escaped attention. "The building uses low-emitting material, even down to the adhesive sealants, paints, coating and flooring systems," said Steele. Even the decision to not create new parking was carefully considered, encouraging users to take public transportation or bicycles to the gym rather than using fossil fuel-chugging cars.
In addition to the benefits for the environment, saving on electricity and water is a smart business decision, says Associate Vice President of Capital Planning, Design and Construction Barry Jodatian. "This is a public institution. We don't build for the short term," he explained. "These buildings will be used for the next 50 years" — which means 50 years of lower utility bills. 
And the center's forward-thinking design is just the start as new construction ramps up at SF State. Each of the in-progress and planned buildings on campus are slated to be at least LEED Gold certified, one step below Platinum. "We wanted to set the bar for other buildings that will be built here, both in terms of design and efficiency," said Jodatian. A new mixed-housing building on campus is planned to be all electric to comply with California's decarbonization policies, and the University is also weighing innovative design solutions for a planned science building, which comes with its own set of unique sustainability challenges.
"We're going to keep pushing ourselves to be more ambitious and to create more efficient buildings," said Steele.