Library exhibit features New Deal-era murals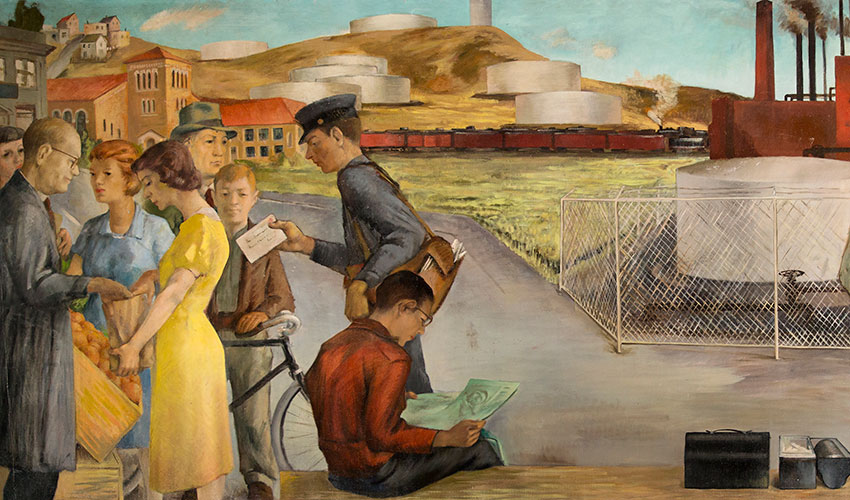 Artist Victor Arnautoff painted murals at Coit Tower, Washington High School in 1930s
When Melinda McCrary, M.A. '13 (Museum Studies), got wind of a 10-foot-long New Deal-era mural that had been missing for decades from Richmond's main post office, she immediately set out to hunt it down.
The mural by Victor Arnautoff, a former assistant to Diego Rivera, showed blue-collar workers, people buying groceries and the city's oil refineries. It was one of many he did in the 1930s and 1940s under a federally funded program that encouraged artists to create public art works reflective of the American scene.
The downtown post office underwent a renovation in 1976, and the mural was apparently rolled up, stashed away in a basement and forgotten. But many thought it had been tossed in the trash.
"I kind of got a bee in my bonnet and I just started asking questions," said McCrary, the executive director at the Richmond Museum of History. "And then I found this janitor. The lights had been out in this one room for who knows how long. Maybe years. He shone his flashlight on this 12-foot-high crate and I said, 'There it is.'"
That was in 2015. Later this month, a full-scale photographic reproduction will be shown at San Francisco State University's Special Collections Gallery as part of a Labor Archives and Research Center exhibit on Arnautoff, now widely recognized as a leading artist of the era.
Arnautoff's best-known work is his "City Life" mural at Coit Tower, which depicted a newsstand that sold leftist periodicals, a robbery and a car crash, among other street scenes. It was made in 1934, a politically tense year in San Francisco that saw violence along the waterfront during a longshoreman's strike. The radical content of Arnautoff's mural and those created by other artists inside Coit Tower caused a public controversy that prompted the closure of the tower for several months.
The exhibit will include an enlarged photographic reproduction of "City Life," as well as reproductions of murals he did under the Federal Art Project at George Washington High School. Prints related to the 1934 San Francisco General Strike (which followed the longshoreman's strike) and a collection from the archives of the California Labor School, where Arnautoff taught in the 1940s, will also be displayed.
"A lot of people know about Arnautoff's work at Coit Tower," said Catherine Powell, director of SF State's Labor Archives and Research Center. "But we're also pulling in his history and trying to understand the larger role that he had in the Bay Area as a significant artist here and nationally."
The exhibit was co-curated by Professor Emeritus of History Robert Cherny, one of the founders of the Labor Archives, which was established in 1985 to preserve the region's working-class history. Cherny recently published a book about the artist — "Victor Arnautoff and the Politics of Art." Like his mentor, Diego Rivera, Arnautoff wanted art to be accessible to the masses and his murals were intended to be moving and to stimulate thinking, Cherny said.
"He referred to himself as a social realist, and he's an interesting example of things going on generally in the art world and of the connection between the art world and the New Deal," he said.
Arnautoff also painted murals at the Old Cathedral of the Holy Virgin in San Francisco, the Palo Alto Medical Clinic, the chapel at the Presidio in San Francisco, the library at the San Francisco Art Institute and at post offices in South San Francisco, Pacific Grove, College Station, Texas, and Linden, Texas. McCrary said she hopes the exhibit will help raise awareness about Arnautoff's significance to New Deal-era art, which could help with raising money to get the Richmond mural restored.
"More people are going to see it in San Francisco, and it lends an air of credibility to what we're doing here," she said. "For people to see it for the first time, and in context with the other works, is going to be amazing."
Cherny will speak at the Sept. 13 opening program hosted by the Labor Archives. "Victor Arnautoff and the Politics of Art" will be on the 4th floor of SF State's J. Paul Leonard Library and will run through Dec. 12.