Lecturer's book for children tackles a very grown-up subject: eviction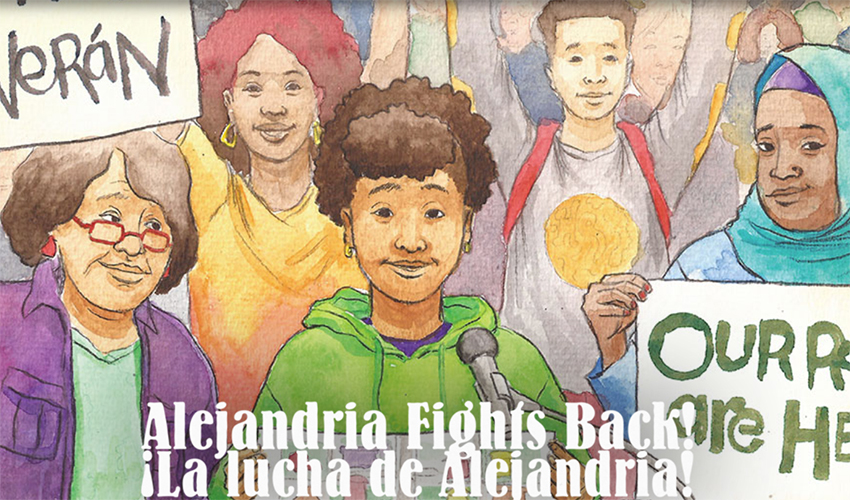 "Alejandria Fights Back!" publishes Aug. 10 to raise awareness for housing rights
In 2016, Leticia Hernández-Linares received an eviction notice from her landlord — a traumatic shock to both her and her two kids. In the end, the landlord didn't follow through on the eviction. But it wasn't easy for Hernández-Linares to hold on to her apartment in the Mission District, a neighborhood she'd lived in since 1995. That's because housing rights are complex, confusing and often overlooked by those who need them most, she says. 
A lecturer of Latina/Latino Studies at San Francisco State University, Hernández-Linares drew inspiration from her experience to write a bilingual Spanish and English children's book to raise awareness for housing rights. "Alejandria Fights Back!" tells the story of a fictional 9-year-old Afro Latina who contests an eviction with the help of her community. City University of New York's Feminist Press will release the book next month.
"The book tells the story of a community that wants to stay together — that feels they have the right to live where they want to live," Hernández-Linares said. "This was a way to bring this complex conversation into a classroom or into a home with familiar faces and familiar voices so that it might seem a little less overwhelming." 
"Alejandria Fights Back!" came to life as one of several projects imagined by the Rise-Home Stories Project, a national collaborative of artists, writers and advocates who believe storytelling plays a role in social justice. After an application process, Hernández-Linares joined the organization, which received funding for a project focused on telling stories about housing rights. 
In the book, Alejandria sees people are moving out of Parkwood, a fictional neighborhood inspired by the Mission District, because they can't afford rising rents. Then Alejandria's family receives a letter saying they'll need to leave their apartment, too. So Alejandria rallies her community together and protests at city hall — a part of the plot that Hernández-Linares says was inspired by her son's activism against displacement due to gentrification. 
One of the goals of the project was to inspire kids, which is why the main characters are children. Through the book, Hernández-Linares and her Rise-Home Stories Project colleagues wanted to help children understand they are never too young to take action.  
"Young people can be the force of change," she said. "You don't have to be an adult to have an impact in the world on the society around you." The book is also a way to help young people learn about governmental structures and how they are supposed to serve communities, she added. 
Hernández-Linares says she and her colleagues also hope the book will uplift Afro-Latinx voices, which is why Alejandria is of Afro-Nicaraguan descent. "We wanted the story to speak to as wide an audience as possible, especially African American and Latinx communities that disproportionately contend with issues of displacement," she said.  
 "Alejandria Fights Back!" will be for sale in stores and online Aug. 10. The book is also available for pre-order from the Feminist Press.  
San Francisco State student assistant Adelmi Ysita contributed to this article.