How SF State is actively helping during the pandemic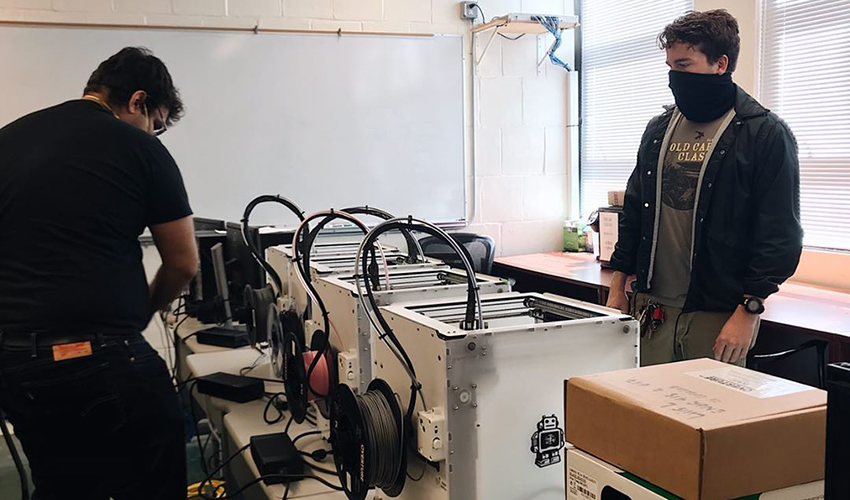 The University community is lending a hand by 3D printing medical supplies, raising funds for students in need and more
Social distancing might keep us apart, but it hasn't stopped the San Francisco State University community from pulling together. The University's students, faculty and staff found numerous ways to help during the COVID-19 pandemic. Whether donating — or producing — much-needed medical supplies, supporting those sheltering in place on campus or raising money for students most challenged by the crisis, they're meeting extraordinary needs with decisive action.
Sending supplies to where they're needed most
Health care facilities across the U.S. are experiencing a shortage of medical supplies, and Bay Area hospitals haven't been immune. In response, the College of Science and Engineering at San Francisco State recently donated roughly 35,000 gloves, 350 pairs of protective eyewear and a couple hundred lab coats to nearby medical facilities, including Seton Medical Center and University of California, San Francisco Medical Center. Instead of sitting idle in storerooms, the much-needed supplies are now on the front line of the fight against COVID-19.
"Just like the city of San Francisco, the University is known for social engagement and service to our communities," said SF State President Lynn Mahoney. "It's especially important during a time like this that we keep these values top of mind as we continue to support and care for one another."
Using cutting-edge tech to keep health care workers safe
Demand has been high for another piece of equipment vital to medical personnel in the age of COVID-19: plastic face shields. But though they're hard to find, they're not impossible to make — provided you have the schematics, the right equipment and a can-do attitude. Students from SF State's School of Engineering and Department of Computer Science have taken home four state-of-the-art 3D printers from the student-led Rapid Prototyping Lab and have been using them to create their own small-scale face shield factory. They'll donate the face shields they create, along with straps and other equipment, to Bay Area hospitals
Supporting students through a time of crisis
The Help, Opportunity and Pathway to Empowerment (HOPE) Crisis Fund provides SF State students who are experiencing a crisis beyond their control with emergency funds that meet their immediate needs and allow them to continue their studies and graduate. In response to COVID-19, the fund is supporting students who have been deeply affected by the pandemic.
SF State has received hundreds of requests for emergency financial support due to the ramifications of the pandemic, so the University launched a campaign to boost funds for the program and serve more students in need. To date, the University has raised over $185,000.
The Basic Needs Initiatives (BNI) at SF State are also supporting students through a time of crisis, particularly those who are experiencing food and housing insecurity. BNI continue to operate during the COVID-19 crisis, reaching hundreds of students who still reside on campus and in the surrounding area. A list of services and resources available — including emergency meal cards, hygiene and laundry kits and access to showers at the Mashouf Wellness Center — can be found on the Basic Needs Initiatives website.
Getting involved
Feeling inspired to lend a hand? The State of California website maintains a list of ways you can safely help. The webpage also lists nonprofit organizations you can contact to offer additional support.
For more information about how the University is responding to the virus, visit SF State's COVID-19 webpage.