Game on: School of Music maestros create soundtracks for interactive media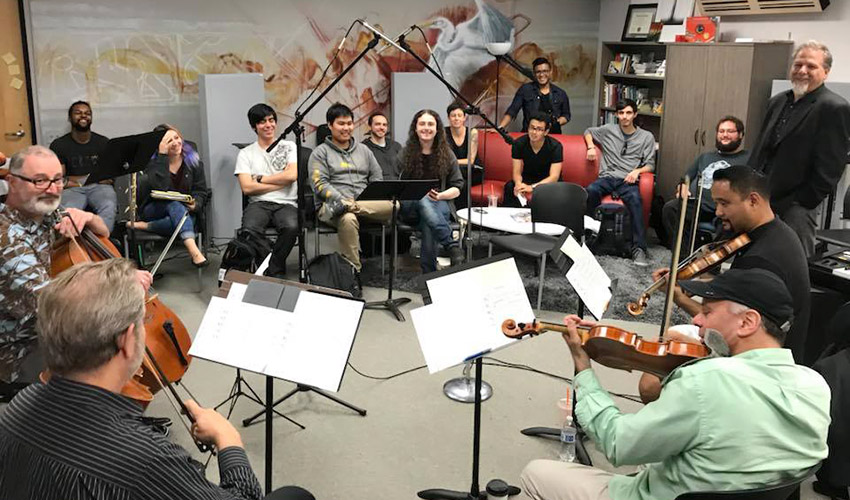 New SF State classes focus on scoring and sound for video games
Greer McGettrick, a music composition major, was not a fan of video games. She didn't play them growing up and had certain prejudices — that they're ultra-violent, objectify women and are geared toward a male audience. But last semester, her curiosity drove her to enroll in a class on scoring for video games, the first of its kind at San Francisco State University. By the end of the semester she changed her mind. Not only was she exposed to different types of games, such as strategic puzzles and games with a social justice message. She also learned about the unique nuances of writing music for interactive media, getting a glimpse of what it might be like to work in an actual gaming studio.
"We had weekly projects, and it felt like we were working for a company," she said. "Our teacher would say things like, 'That sounded good, but it's not really on brand.' That isn't something you hear in a classroom, but you would in the professional world. So it was helpful to receive that kind of criticism."
The class is one of a handful of new School of Music courses focused on video games — part of a push to expand academic and professional opportunities for music students. According to School of Music Director Cyrus Ginwala, the new coursework in sound design and scoring for video games is the beginning of what will hopefully become a concentration within the school or an interdisciplinary major.
"An emphasis or bachelor's degree in scoring for games will be one of the first majors of its kind," he said.
Ginwala expects the new classes will have a huge impact on student success, partially due to the number of media companies interested in providing internships to students.
"There's a stream of students who come to the School of Music with experience and passion, but because we have not offered this coursework before that stream diverts to another major," he said. "We want to retain these students and give them opportunities that are going to see them through their academic careers and their professional lives. There are media companies waiting to give our students internships, but students need these classes to prepare them for the opportunities."
SF State Lecturer Steve Horowitz leads the class on scoring for games. As the audio director for Nickelodeon Digital he's had extensive experience creating soundtracks for games, TV shows and movies. He's even developed his own curriculum specific to video games where students create original soundtracks and place both music and sound into special interactive game lessons, such as in an interactive maze.
"Scoring for games is different from scoring for film. Film is linear. Games are interactive," he said. "The maze tells you through music if you're going the right or wrong way. Students take their creative designs and learn how to implement them into the game."
Some of Horowitz's students in the advanced scoring classes are participating in a new collaboration with game designers from SF State, the University of California, Santa Cruz and the University of California, San Francisco. They're working on everything from virtual reality and augmented reality games to science and educational titles, some of which may end up getting published on various platforms.
"The collaborative classes are like working in an audio department," he said. "Game development is a team sport. You'll have programmers, graphic designers, audio designers, music leads — everybody has to work together to make the game work."
What's also unique about the medium is that it brings together different disciplines, Horowitz said. On campus, there are already classes in different departments that offer curricula related to gaming. Currently, multiple departments are interested in establishing an interdisciplinary organization on campus called MAGIC (Media Arts and Games Immersion Consortium).
"MAGIC may be a way to facilitate courses across department lines, offer grants to departments and give corporations an easy way to support what's happening on campus," Ginwala said. He expects to submit the proposal for approval within the next year.