A Fulbright future for two SF State graduates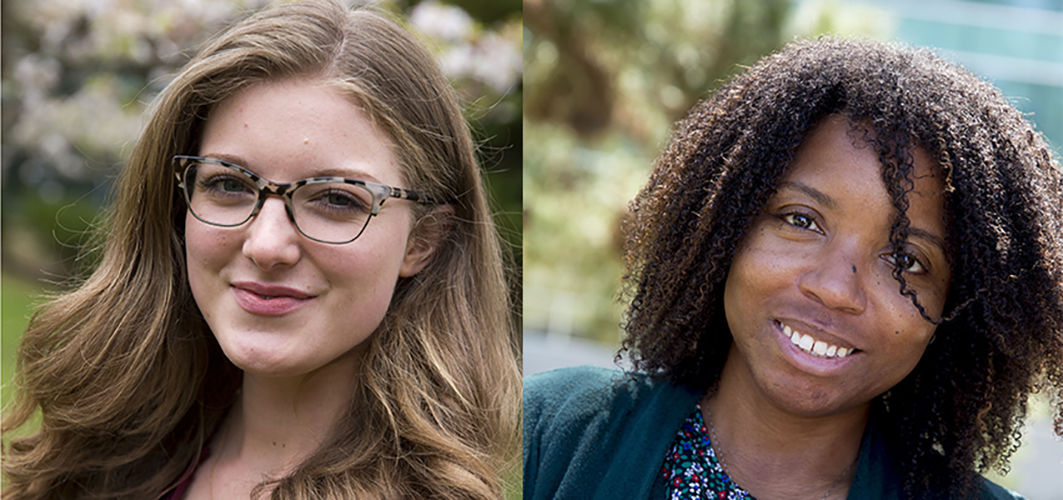 Josette Marsh and Kimberly Reyes are the latest in a long line of awardees from the University
Two recent San Francisco State University graduates have been selected to further their education abroad as Fulbright Award winners, joining the ranks of the notable scholars, ranging from Pulitzer Prize winners to Nobel laureates, who have participated in the program.
"I feel like I'm standing on the shoulders of giants," said Josette Marsh, who will serve as an English teaching assistant at a public school in North Rhine-Westphalia in Germany. "It's a huge honor."
The University's other Fulbright recipient, Kimberly Reyes, graduated with a master's of fine arts in creative writing last spring and will travel to University College Cork in Ireland to pursue a master's degree in Irish literature and film.
"This is the first time where I just get to be a student," said Reyes, who was a working journalist and copywriter prior to focusing on poetry at San Francisco State. "I'm really looking forward to just reading and learning and taking it all in."
Founded in 1946 by Senator J. William Fulbright, the government-sponsored Fulbright Award program operates in more than 150 countries, giving students and scholars a chance to work collaboratively with colleagues at international universities. Though the program is known for its grueling application process, students from around the world apply for 8,000 positions each year. Fulbright alumni include heads of state, judges, ambassadors, CEOs and university presidents as well as leading journalists, artists, scientists and teachers. New Fulbright recipients from SF State join their ranks almost every year.
Both Reyes and Marsh will begin their programs this fall. Marsh, who graduated in May with a bachelor's in comparative literature, was inspired to study in Germany by her mother, a German immigrant. She says her SF State professors helped her make that dream come true.  
"I was pretty optimistic when she asked me to write a letter of support," said Professor of Modern Languages and Literatures Volker Langbehn, who has had Marsh in five different courses throughout her college career. "She is a person who subscribes to social equality and social justice. With her upright personality and integrity, I think as an educator she can be a role model for students to follow." 
Reyes also found crucial support on campus thanks to the University's Fellowships Office, which assists students and recent alums who are applying for competitive scholarships and grants. In particular, Reyes says, Fellowships Office Executive Coordinator and Advisor Joy Viveros was a major inspiration who encouraged her to "go for the big one."
"Kimberly kept focused on keeping true to her voice, identifying what in this master's program and in Ireland itself was necessary to her development and what she would bring to the program and country," said Viveros.
During her time with SF State, Reyes has published two books of poetry that explore race and class — topics she expects to delve into in Ireland.
"There is a history of oppression in that country, and maybe there's a feeling of being a little out of place in their own homeland," she said. "I can relate to that as an African American."
For more information on the Fulbright program and how to apply at SF State, visit the Fellowships Office website.