Five SF State students take top prizes at CSU Student Research Competition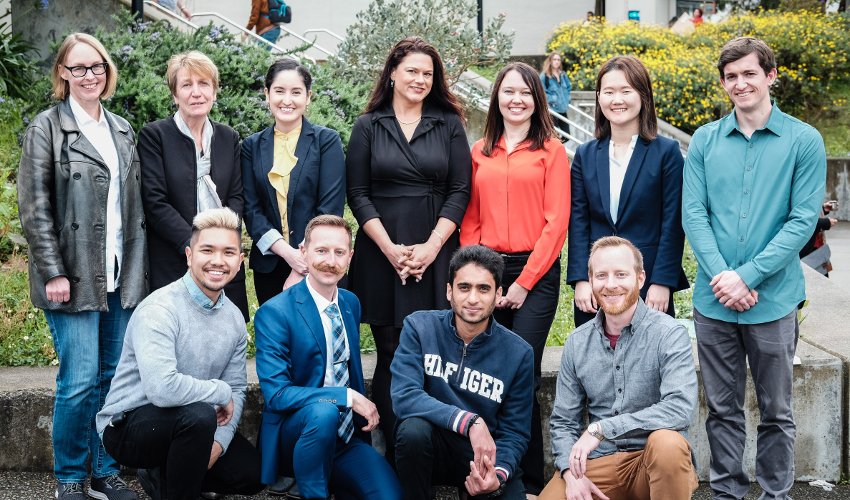 First-place finishers are graduate students in design, psychology and mathematics
San Francisco State University students put on a strong showing at the 33rd annual California State University (CSU) Student Research Competition held recently at Cal State Fullerton: Three of the 10 in the competition came in first place in their category, putting San Francisco State in a four-way tie for first-place winners among all CSUs, and two more placed second.
Julia Moon, who is pursuing a master's degree in psychology, led the graduate behavioral and social sciences division. Her research examined whether the way adolescents perceive time could influence anxiety. Moon used data collected by her mentor, Associate Professor of Psychology Zena Mello, from a previous study of hundreds of adolescent students. Participants who saw their past as more important than their present and future were more likely to have anxiety than those who didn't, Moon found — and those who felt negatively about their past, present and future also had more anxiety than those with a more positive outlook.
"I speculate that there's something empowering about acknowledging the present and appreciating that you can do things in the present that have an impact on the future," Moon said.
James Getomer, who is pursuing an M.A. in design, took first place in the graduate creative arts and design division. His project was inspired by the state of student mental health in 2019. "Student mental health has never been worse," he explained. "Depression and anxiety specifically have been spiking, particularly in the past 10 years."
Getomer researched the issue by gathering statistics from scientific studies and interviewing students and staff members. He also conducted a detailed study of one fellow student, recording and analyzing extensive field notes taken over a four-month period. He then used that information to create recommendations for streamlining how the University offers students mental health support.
Students, he found, need a greater variety of informal mental health resources. Scheduling a meeting with a counselor can be intimidating and inconvenient for some, creating a barrier to seeking support. "We need students to be able to access resources at their own convenience," he said.
Along with his recommendations, he designed a mobile application that combines links to self-help guides that are backed by research and an interface for chatting with trained, on-call student volunteers who could guide students to the correct resources on campus. But while these designs could help provide services for more students, Getomer says that hiring more counselors is still necessary to get students the support they need. "We can't just build an app and hope that it solves all our problems," he said.
SF State's third first-place winner was Brandon Van Over in the division of graduate physical sciences and mathematics. His project resulted in a mathematical proof for simplifying the calculation of what's called the "Frobenius number," a problem that's relevant to widely used programming algorithms.
The other top finishers from SF State were David Hlusak, who took second in graduate humanities and letters for his project "First Came the Sound: How the Media Covered the Port Chicago Affair and its Impact on Integration in the U.S. Navy," and Khanh Tran, who placed second in undergraduate and graduate education for his presentation "The Alma Project: Reflective Journaling to Promote Belonging and Persistence in STEM."