Faculty, staff recognized for outstanding contributions to University community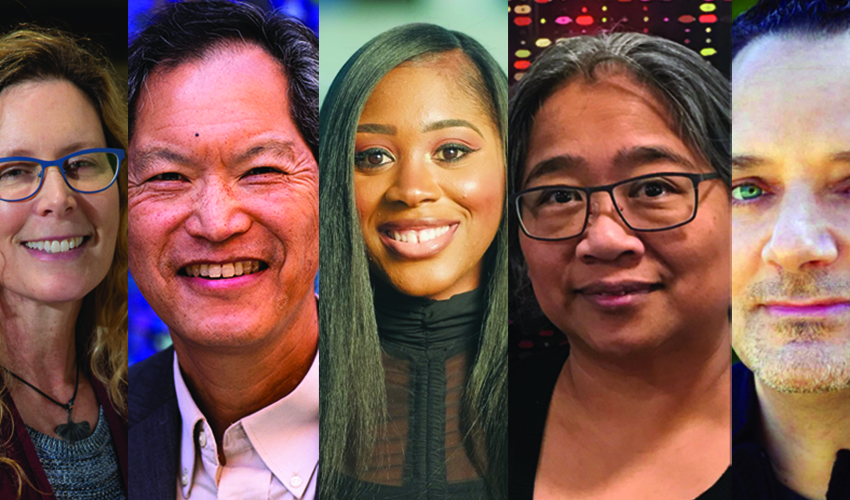 Five Distinguished Faulty/Staff awardees honored at 2021 Convocation ceremony
San Francisco State University honored faculty and staff members for exceptional service to the University community at the University's Aug. 18 Opening Convocation, an event that marks the start of a new academic year.
Four faculty members received the Distinguished Faculty Award, which has been given annually since 2007 to recognize excellence in teaching, service and professional achievement. In addition, one staff member was honored with the Distinguished Staff Award for Excellence in Service, which recognizes the efforts of staff members who have demonstrated a high level of commitment to the University in their support of students and their departments. Collectively, their accomplishments range from raising awareness about a nationwide social issue to launching and supporting unique programs to the more hands-on work of mentoring students and faculty.
San Francisco State Foundation Chairperson Kimberly Brandon recognized recipients at the 2021 Opening Convocation. "The excellence among our faculty and staff is boundless," she said. "Their work inside and outside of the classroom is a continual source of inspiration for the entire University community and beyond." The SF State Foundation supports the award program through a $20,000 annual donation divided up evenly among the five honorees.
Read more to learn about how the recipients are making a difference at San Francisco State.
Excellence in Professional Achievement Award: Russell Jeung
Russell Jeung is a professor of Asian American Studies who began his career at SF State in 2002. Since then, Jeung has used his academic platform and expertise to raise awareness about social issues.
Most recently, Jeung, with the help of student researchers, began tracking pandemic-related incidents of racism against the Asian American and Pacific Islander (AAPI) community. In March 2020, he launched Stop AAPI Hate, a national coalition that addresses anti-AAPI hate. He's since served as spokesperson for the organization, speaking to national and international news organizations about this disturbing trend. Jeung's findings have prompted a response from local and federal leaders, including several national, state and citywide resolutions denouncing Asian hate. In July, his organization received $10 million in state funding to continue tracking racism against the AAPI community.
Excellence in Service Award for Faculty: Sally Pasion
Associate Professor of Biology Sally Pasion joined SF State's faculty in 2001. Pasion served as biology advising coordinator for 13 years, worked to create inclusive classrooms, coordinated the College of Science & Engineering student showcase and served on the Academic Senate.
She also spent years assisting the California State University Program for Education & Research in Biotechnology (CSUPERB) with reviewing student poster abstracts, hosting workshops and participating in panels.
Excellence in Teaching Award for Lecturer Faculty: Larry Salomon
Larry Salomon has been a lecturer in the Department of Race and Resistance Studies (RRS) since 1994. He co-founded the Metro College Success Program, where he also serves as a faculty mentor. The veteran educator is skilled in building community and putting students at ease, according to Associate Professor of RRS Falu Bakrania. More importantly, he makes students feel cared for, she adds.
Excellence in Teaching Award for Tenured Faculty: Katharyn Boyer
Katharyn Boyer is a professor at the Estuary & Ocean Science (EOS) Center and in the Department of Biology. This year, the Coastal and Estuarine Research Federation honored her with the William A. Niering Outstanding Educator Award after 11 of her students nominated her for the award. One former student credited Boyer with providing the mentorship needed to land a dream job with the National Oceanic and Atmospheric Administration.
The pandemic provided an opportunity to stretch Boyer's innovative teaching methods, which reached new levels this past year. She took students on virtual field trips using only a WIFI hotspot, her laptop and a smart phone. She conducted backyard greenhouse experiments at home and students monitored specimens via a live video stream.
Excellence in Service Award: Sha'Nice Robinson
Sha'Nice Robinson coordinated campus visits and tours for the office of Undergraduate Admissions and Recruitment. She's a three-time degree holder from SF State with a B.A. in Africana Studies, an M.A. in Ethnic Studies and an M.A. in Education, Equity and Social Justice. She will begin new studies in the Graduate College of Education's doctoral program in Educational Leadership this fall.
Outside of her role as coordinator, she co-founded the Soul of SF State, a campus organization dedicated to giving a voice to and honoring the Black community at SF State and the Bay Area through a series of virtual events.