Faculty retreat on anti-racism draws hundreds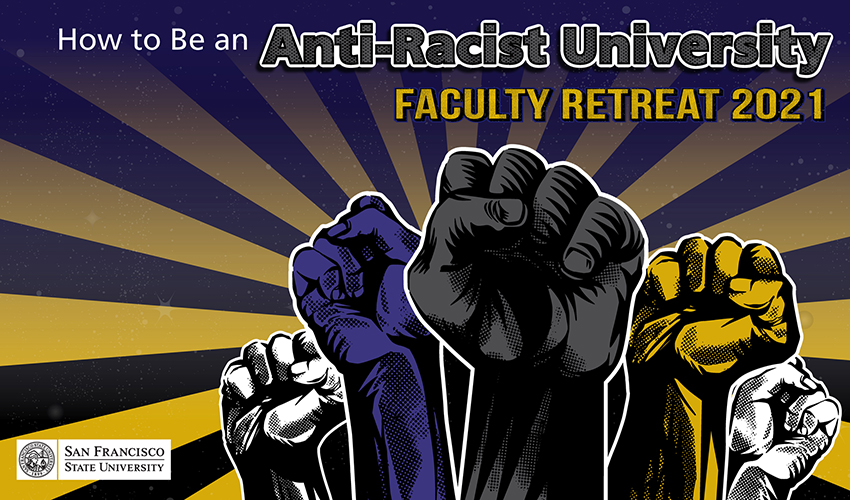 SF State president and CSU chancellor share their perspectives on anti-racism at event
As the first U.S. university to form a college dedicated to ethnic studies, San Francisco State University has played a crucial role in the fight for racial equity in academia. But it doesn't take its status as an anti-racist university for granted today. That's why the theme of the 2021 winter faculty retreat was "How to Be an Anti-Racist University."
Last week, more than 400 faculty came together for the annual event, which was held virtually this year due to COVID-19. Co-chaired by Faculty Director of the Center for Equity and Excellence in Teaching and Learning (CEETL) Wei Ming Dariotis and Vice Chair of the Academic Senate Jackson Wilson, the retreat was organized to allow faculty to reflect on how they can integrate more anti-racist practices into their teachings, policies and processes at San Francisco State.
"SF State has a deeply grounded historical and current relationship with being anti-racist," Wilson said. "The retreat allowed us to come together and identify steps we can take to make that relationship even stronger."
The retreat began with a land acknowledgement by a representative of the Association of Ramaytush Ohlone People, Gregg Castro, followed by a presentation by SF State Provost Jennifer Summit, who shared her thoughts on what an anti-racist university looks like. A plenary discussion between SF State President Lynn Mahoney and California State University (CSU) Chancellor Joseph I. Castro followed. When asked how universities can become more anti-racist, Castro had a clear answer: removing unjust barriers.
"I think our job is to identify those [barriers] with our colleagues, and if it's within our authority and responsibilities, remove those barriers," he said. "And to the extent it's not, then we advocate to get those changed."
Assistant Vice President of Equity & Community Inclusion Frederick Smith moderated a panel discussion that featured representatives from SF State's colleges and J. Paul Leonard Library. The panelists ­— including deans, professors, department chairs and more — discussed how each of their respective areas of the University have been building a more anti-racist institution by recruiting students and employees of color, reimagining courses to include more content related to racial justice, creating an anti-racism task force and other steps.
The retreat concluded with breakout sessions to allow faculty a forum to discuss and plan further action. The 25 sessions covered a variety of topics, such as disability justice, how to better support Latinx students, cultivating anti-racism in STEM and fighting against anti-Black racism.
"There's a lot of work to be done, but there are a lot of opportunities to do that work with my colleagues," said retreat attendee Shandy Hauk, an associate professor of Mathematics.
Hauk appreciated how intentional and eager many of her colleagues are to participate in this important work. She says there might be mistakes along the way, but that's OK as long as there's willingness to learn. "We have to learn to stumble together and help each other back up and stumble again," she said.