Faculty meeting helps kick off school year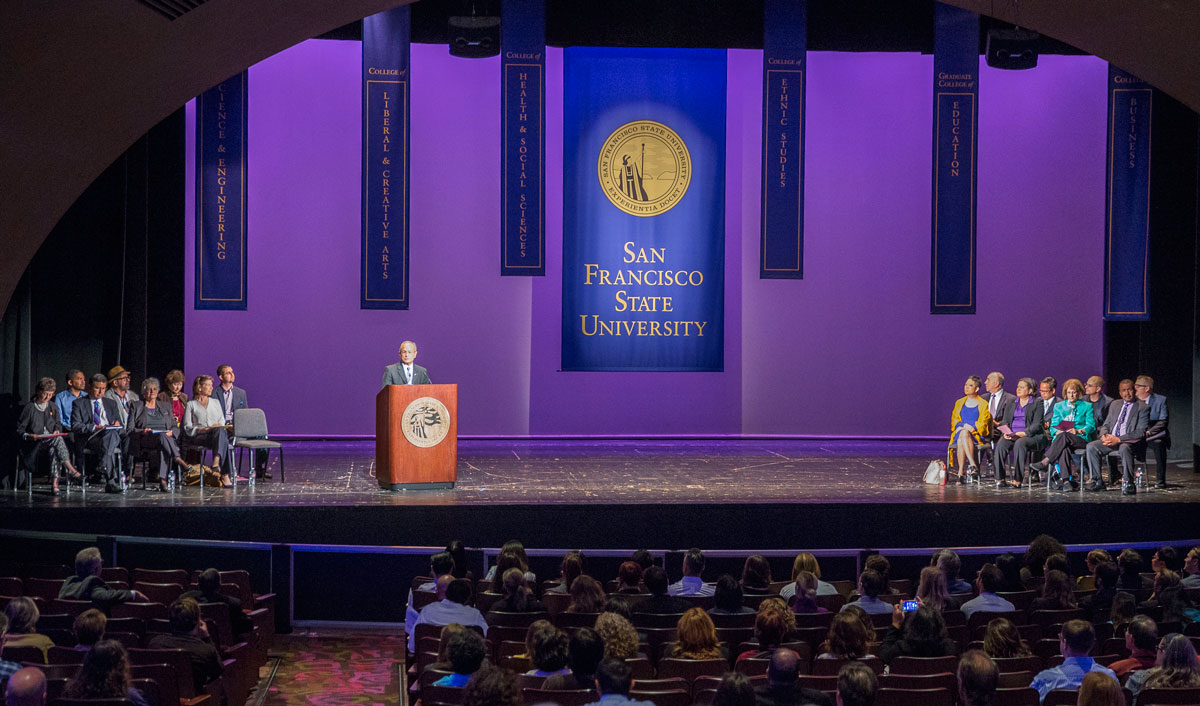 San Francisco State University welcomed dozens of new faculty members and rolled out the title of its first comprehensive fundraising campaign -- "BOLD. Thinking." -- at its annual opening faculty meeting on Aug. 21. As the largest incoming class in SF State history prepared for the beginning of the fall semester on Monday, President Les Wong provided the school's gathered faculty with an overview of both the past year's highlights and his priorities for the year ahead.
"There is an excitement in the air. It's hard to contain my excitement about this year," Wong said. "Not only in the number of faculty, staff and administrators that are here but just the whole spirit of the students and what San Francisco State has been able to do in asserting our claim that we are the city's university. We are doing great work both on campus and off."
Wong cited the University's new strategic plan, its ban on travel to Indiana after the state passed a controversial law that seemed to legalize anti-LGBTQ discrimination and its first-ever Commencement exercises at AT&T Park this past May as notable recent accomplishments. Looking ahead, Wong provided updates on the comprehensive campaign, an urban academy being developed in partnership with the Giants Community Fund, plans for new facilities and programs in the Bayview-Hunters Point neighborhood and various building and development projects.
"We have big goals, and that's why I love the phrase 'bold thinking,'" Wong said. "We are not content with the status quo."
During the meeting, Provost and Vice President of Academic Affairs Sue Rosser also presented the annual Distinguished Faculty Awards, which spotlight exceptional faculty achievements. The honorees (listed below) receive a $4,000 stipend for Excellence in Teaching awards and a $3,000 stipend for Excellence in Service and Excellence in Professional Achievement awards.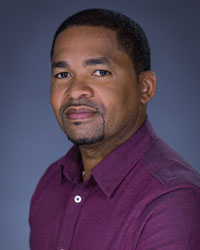 Teaster Baird, Jr., tbaird@sfsu.edu, (Excellence in Teaching Award (Tenure/Tenure-track Faculty):
Since joining the faculty of San Francisco State in 2002, Professor of Chemistry and Biochemistry Teaster Baird, Jr. has consistently demonstrated his commitment to student-centered education, inviting students to think like scientists and actively engage in learning. He was honored by the National Science Foundation in 2007 as a faculty member who "exemplifies the role of teacher-scholar through outstanding research, excellent education and the integration of education and research within the context of the mission of their organization." Baird has more than lived up to this endorsement. Through his laboratory, Baird has provided research opportunities and mentorship to over 60 undergraduate and graduate students. He has reached many more through his classes, which are extremely popular, a testament to just how enthusiastically students respond to his approach. He currently serves as co-principal investogator and faculty advisor to the National Institute of Health's RISE program and is co-director of the Student Training Core of the SF BUILD grant, both at SF State.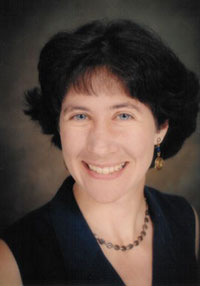 Jennifer Arin, jarin@sfsu.edu, (Excellence in Teaching Award - lecturer):
Since joining San Francisco State in 1999, Jennifer Arin has shown a rare ability to engage even the most reluctant student, a reflection on how well she is able to communicate her passion for literature and writing, and win students over to that perspective. Arin's classroom offers students the opportunity to acquire foundational knowledge that is instrumental to their overall success in higher education, whatever their major. The enthusiasm captured in students' comments about their experience clearly demonstrates her knack for making significant learning both meaningful and enjoyable. A widely published poet and essayist, skilled translator and active member of the literary community of the Bay Area and beyond, Arin uses innovative teaching methods and academic projects to engage with students, compelling them to become more proficient writers, and also eager seekers of knowledge.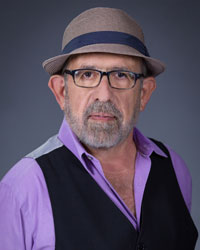 Felix Kury, fkury@sfsu.edu, (Excellence in Service Award):
In addition to over 25 years lecturing in the Department of Latina/Latino Studies, Felix Kury is founder, program director, and faculty advisor to the Clínica Martín-Baró in the Mission District of San Francisco. For the past ten years, Clínica has served as a venue for the realization of its two-fold mission: To provide primary healthcare and wellness services to underserved communities and to empower student volunteers from underserved communities to pursue ambitious academic paths and become lifelong advocates of universal access to quality services. Clínica now enjoys significant community support and the list of student volunteers who have gone on to pursue medical and healthcare-related careers in the U.S. and Cuba is long, a success that owes much to Kury's hard work, dedication, vision and personal mentorship.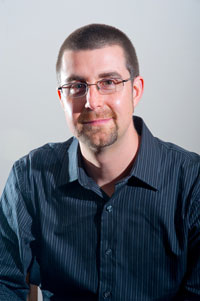 Ryan Howell, rhowell@sfsu.edu, (Excellence in Professional Achievement Award):
Ryan Howell, an associate professor of psychology and co-funder of BeyondThePurchase.org, arrived at SF State in 2007 and established The Personality and Well-Being Laboratory, which has become a hub of groundbreaking research on the relationship between money and happiness. The primary aim of the Personality and Well-Being Lab is to communicate to scientists and society about how development, personality, motivation, values, beliefs, forecasts and community interact with a person's economic conditions and financial decision-making to influence experienced quality of life--from suffering to flourishing. He has authored more than 35 scholarly publications in a number of leading academic journals, including his article "The relation of economic status to subjective well-being in developing countries: A meta-analysis" published in Psychological Bulletin. His research has been covered in media outlets such as the Time magazine, the New York Times, PBS (this emotional life), Forbes, The Economist, The Wall Street Journal, The Atlantic, Fast Company, Elle.com, Salon.com, AARP.com, CNN.com and FoxNews.com, and he has appeared on National Public Radio, Oregon Public Broadcasting, Radio New Zealand and ABC 7 News. Recently, his TEDx talk titled "Is buying happiness simple or complex? It's both" described how the psychology of spending can teach you how to maximize your daily happiness. Howell success has not been limited to his impressive publishing, but also to his ability to engage students and junior faculty in his research, making him an asset to his department, his university and the field of psychology as a whole.