Estuary and Ocean Science Center drums up 'hope for the Bay'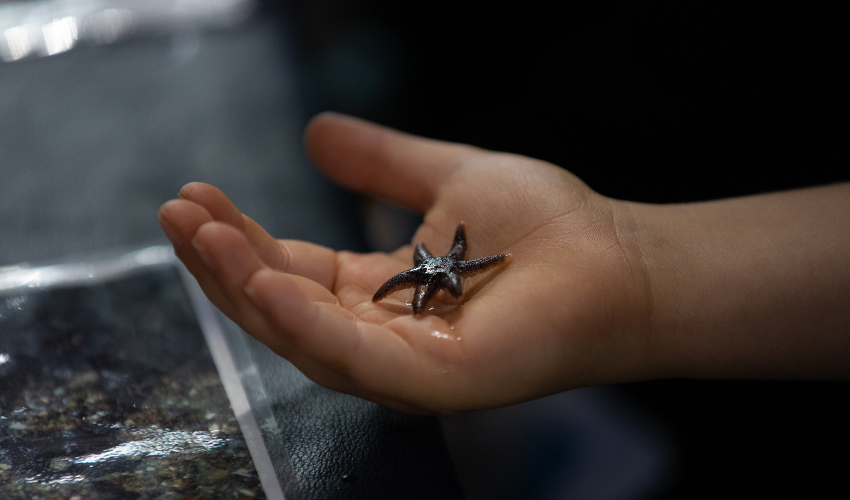 Annual Discovery Day draws more than 1,000 visitors as center unveils a new collaboration
Between acidifying waters, invasive species and changing shorelines, the future of San Francisco Bay can sometimes seem bleak. But an event last Sunday at San Francisco State University's Estuary and Ocean Science (EOS) Center shows that there's reason for hope, too. Over 1,000 visitors attended the center's Discovery Day Open House on April 28 to learn about what scientists are doing to understand, conserve and restore the waters around us — including unveiling a new partnership with the nonprofit Mission Blue.
The theme of the open house was "Hope for the Bay." For the many children attending, the event was a chance to hold tiny green crabs and sea stars, stick their hands into a massive tank of eelgrass and climb onto a research vessel to learn how scientists collect plankton. There were also more conceptual activities on offer, like one where SF State students used color-changing liquid to explain how extra carbon dioxide in the Earth's atmosphere is making our oceans more acidic. 
EOS Center leaders also announced the designation of San Francisco Bay as a "Hope Spot," one of a number of locations around the globe selected by nonprofit advocacy organization Mission Blue to inspire marine conservation efforts. Renowned marine biologist and Mission Blue founder Sylvia Earle spoke to attendees via a video, and EOS Center Executive Director Karina Nielsen was named one of two "Hope Spot Champions," along with Sylvia Gibson of the group Community Action for a Sustainable Alameda. As part of the designation, Nielsen and other EOS Center researchers will help advance renewed conservation action plans to restore habitats, adapt to a changing climate and protect local species.
"Despite a legacy of environmental degradation, San Francisco Bay is full of marine life thanks to the efforts of dedicated people who work to create, protect and restore natural habitats and improve water quality," said Nielsen. "But we need to expand collaborative approaches and include new voices in our conservation planning."
SF Bay stands out among Hope Spots for its location at the heart of a major urban area with millions of people living close by, a major challenge. But speakers also highlighted some successes. The Bay remains a nursery for the young of many marine species, for instance, and recent years have seen a return of marine mammals to the area — including harbor porpoises, absent for more than 60 years but seen in increasing numbers over the last decade. 
Two students in the EOS Center's interdisciplinary marine and estuarine sciences master's program also delivered talks about their research after winning the 2019 EOS talks science communication competition. Byron Riggins described various approaches to combat ocean acidification, including what he calls "Plan Seaweed," the potential of seagrass and eelgrass to reduce some of the negative impacts that climate change is inflicting upon oceans and estuaries. Student Daniel Yim then explained his efforts to understand how Atlantic ribbed mussels, an invasive species that's been a resident of the Bay for over a century, is affecting the ecology of the Bay. As he put it, "If you have a stranger in your home, wouldn't you like to know what they're doing there?"
Ultimately, the event highlighted both the challenges ahead for the Bay and the area's residents and the multi-faceted approach needed to tackle them, from research to conservation projects to inspiring the next generation of SF Bay caretakers. "There are a lot of problems," explained Earle in her video address. "There are also opportunities to make a difference."