English professor competes on Alex Trebek's final 'Jeopardy!' episode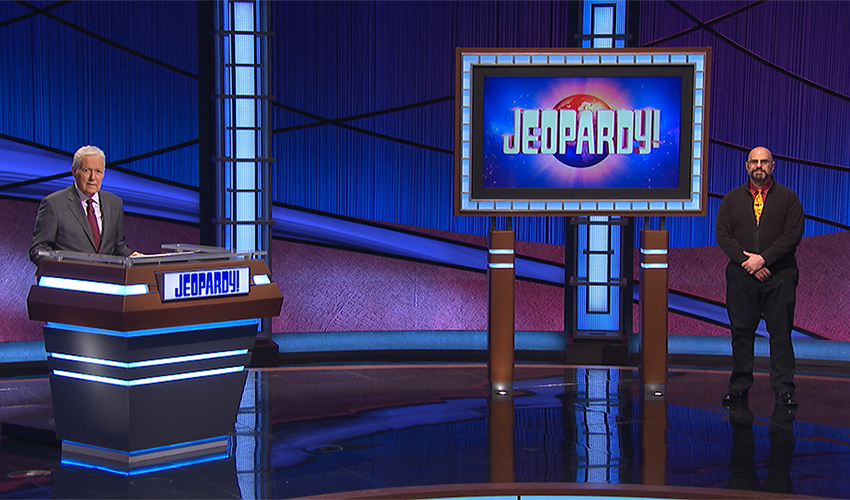 Episode with Assistant Professor James Gilligan airs Friday, Jan. 8
James Gilligan has been obsessed with appearing on "Jeopardy!" for three decades. Now the assistant professor of English Language and Literature has finally made it onto his favorite quiz show — in what turned out to be host Alex Trebek's final episode.
Trebek died Nov. 8, just 12 days after the episode was filmed. A beloved pop culture figure, Trebek hosted "Jeopardy!" for 37 years.
"He was cordial and professional and delightful. … It's kind of a unique distinction to appear on Trebek's final show. Of course, no one ever planned it that way," said Gilligan, who joined SF State in 2015. "I was determined to get on while he was still host. I just didn't know I would cut it this close."
In addition to a rigorous testing process to qualify for "Jeopardy!" Gilligan had to test negative for COVID-19 twice before entering the lot in Culver City. Once arriving on set, everyone had to social distance at all times, apply their own makeup, wear masks when cameras weren't rolling and use hand sanitizer. The "Wheel of Fortune" set substituted for the regular green room.
Gilligan, an adviser in English education, spent more time practicing techniques for using the buzzer than reading up on subjects.
"A liberal arts education is incredibly useful on a quiz show where you really don't know what the categories are going to be," said Gilligan, who won $64,000 on "Who Wants to be a Millionaire" in 2000. "I know at least a little bit about a lot of different things."
You can watch Gilligan compete this Friday, Jan. 8. "Jeopardy!" airs in the Bay Area at 7 p.m. on KGO-Channel 7. Visit the "Jeopardy!" website for other ways to watch.