Engineering professor's innovative teaching ideas garner award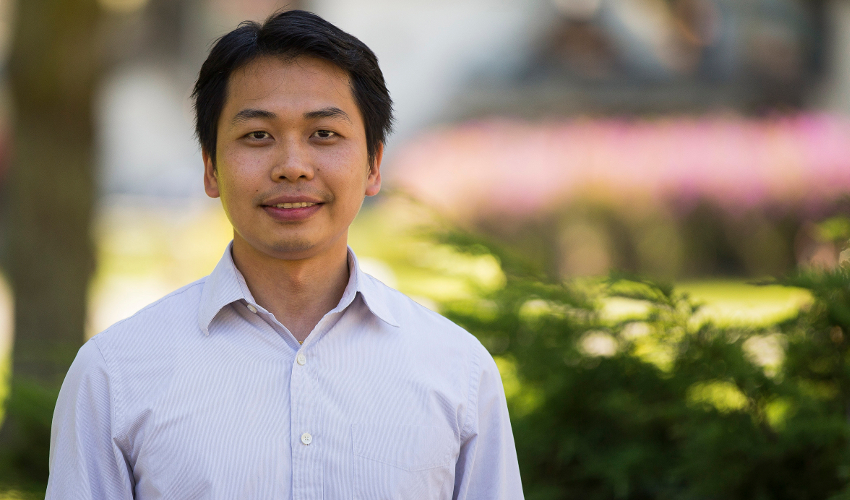 Assistant Professor of Civil Engineering Zhaoshuo Jiang is modernizing the engineering classroom 
Innovation is central to engineering. So why shouldn't it be a part of how we teach it?
That's Zhaoshuo Jiang's perspective, anyway. And the California State University (CSU) shares it: That's why the San Francisco State University assistant professor of civil engineering is one of the winners of the CSU's new Faculty Innovation and Leadership Award. Launched this year, the award recognizes faculty members at CSU universities (such as San Francisco State) who contribute to student success through innovative teaching practices, course design and redesign and other support programs. The honor comes with a $15,000 award to support Jiang's continued novel educational efforts.
One area where Jiang says engineering courses could stand more innovation: phones. Looking around at how students use smartphones and tablets, Jiang realized that instructors could do more to integrate those omnipresent technologies into the classroom. "I see a big gap between professors and students in their usage and perception of technology," Jiang said. "I want to learn from students so maybe I can help bridge that gap."
As part of an effort to redesign the "Mechanics of Solids" course, one where students have traditionally struggled, Jiang worked with students to make his course materials more accessible by incorporating them into mobile apps. He also recorded videos about important concepts and held "virtual office hours." After the changes, grades went up, and a survey showed that students gained a better command of the course material than in previous semesters.
Another project of Jiang's was creating a mobile laboratory: a space featuring equipment that students can operate remotely with their phones and tablets. "Students can use that activity to validate what they're learning in the classroom and try out lots of innovative ideas without having to come into school to do those experiments," Jiang explained. The lab even features a remote-controlled robot that students can use to watch their experiments from different angles or communicate with a lab assistant in real-time.
The project has expanded to four different universities across the U.S., and so far the idea is paying off. When surveyed, "90 percent of students said the platform actually helped them learn," said Jiang. Next, he hopes to collaborate with more universities to pool resources and connect mobile laboratories so that students across the country can experiment with equipment unavailable at their home institutions.
Jiang's drive to innovate extends to training researchers, too. This summer, the first cohort of eight students took part in a new National Science Foundation-funded Research Experience for Undergraduates (REU) program that he spearheaded along with Juan Caicedo at the University of South Carolina. REU students did research in both academic and industrial settings — a rarity in such programs, Jiang says.
"There's a big gap between research in academia and industry. We have the same goals, but we typically approach them in different ways and don't talk to each other much," he explained. The program lets students experience the different paces and demands of research in each environment and prepares them for the next steps in their career.
Jiang will be honored along with 25 other awardees at the third annual Graduation Initiative 2025 Symposium in San Diego, California for his contribution to student success. The Graduation Initiative 2025 is an effort to raise graduation rates and close achievement and opportunity gaps for students across the 23 CSU campuses.