Eight SF State students named CSU Pre-Doctoral Scholars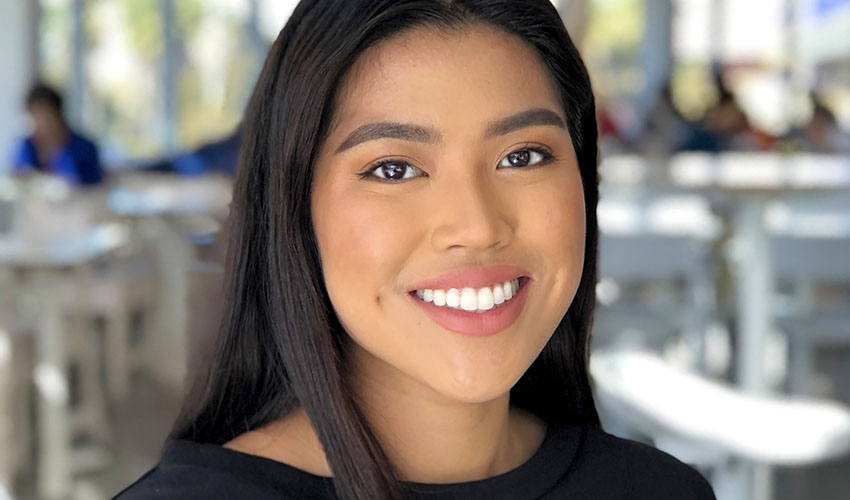 The program supports students like Elleanor Pangilinan as they pursue their research and graduate degrees
As a graduate student at San Francisco State University, Elleanor Pangilinan has been researching the experiences of Black, Indigenous and People of Color (BIPOC) educators and students in science classrooms and programs. But it was her own experience — one of surprise,  gratitude and relief — that took center stage for her recently thanks to the California State University's Pre-Doctoral Scholar Program. Pangilinan learned that she'd won a fellowship through the program that would allow her to continue the research that means so much to her.
"It definitely caught me off guard to hear that I'd been named a Pre-Doctoral Scholar," she said. "I was finishing up a large project and didn't expect a response about my application until later. ... As excited as I was, I also felt a good sense of relief since the support from this program would provide me with new opportunities to consider in my field of biology education research."
A longtime resident of San Pablo, California, of Philippine heritage, Pangilinan earned an A.S. in Biology from Contra Costa College before transferring to UC Davis to complete a B.S. in Nutritional Biology. The road to graduation wasn't always smooth, which is why she's taken an interest in helping others navigate it. Not only is it the subject of her research as an M.S. student in San Francisco State's Cell/Cellular and Molecular Biology program, she supports students following in her footsteps as a program lead for Contra Costa College's Hispanic Serving Institutions (HSI)-STEM Grant and STEM Center.
"As a first-generation community college transfer student and woman of color in STEM, this work is deeply reflective of my lived experiences and those of many of my own students today," she said. "I'm excited to further contribute to improving the experiences of everyone in the classroom and take this next step in building my practice as a biology educator and a scientist."
This summer the CSU awarded Pre-Doctoral Scholar fellowships (also known as Sally Casanova scholarships) to 76 students. The Pre-Doctoral Scholars will receive one-on-one mentorship from a faculty member and are also offered the chance to participate in summer research opportunities at institutions that offer Ph.D. programs. The award is aimed at students from economically or educationally disadvantaged backgrounds. Pangilinan plans to use hers to continue doing research that will make teaching more responsive, engaging and equitable, particularly in community college biology classrooms and science programs.
"Almost half of the U.S. undergraduate population is enrolled full-time at community colleges, where a vast majority of the student population identify as low-income, first-generation, non-traditional and from marginalized backgrounds," she said. "I see a need for more equity-focused research at the community college level, particularly in the sciences given the consistent growing demand and push for more students, particularly our most marginalized, to enter the sciences."
Seven other SF State students were also named Pre-Doctoral Scholars:
Kelso Becktol, Women and Gender Studies
Betsy Paredes Centeno, Psychological Research: Mind, Brain and Behavior
Manmit Singh Chahal, Ethnic Studies
Alvaro Cornejo, Mathematics
Mickenly Doyle, Communicative Disorders
Luis Alberto Perez, Mathematics
Robert Willis, History
Learn more about the CSU Pre-Doctoral Scholar Program.