Communication Studies professor emerita and LGBTQ pioneer Sally Gearhart passes away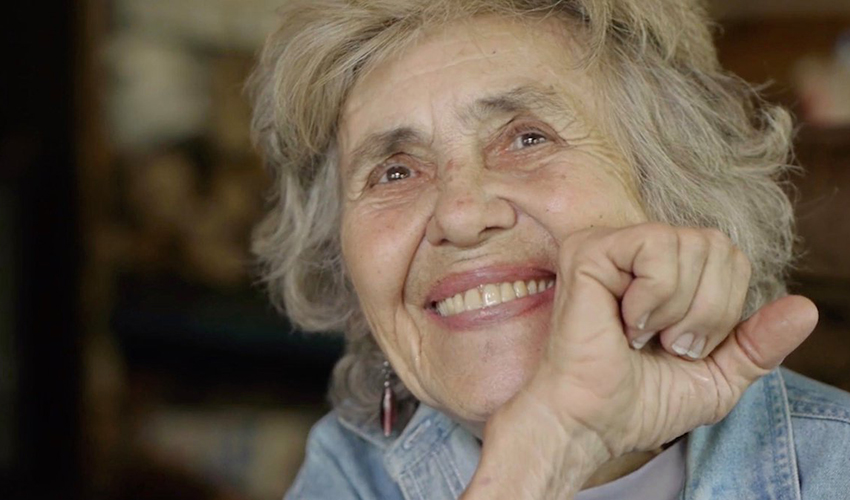 A cofounder of the University's Women Studies program, Gearhart was the first out lesbian hired for a tenure-track position at SF State
Communication Studies Professor Emerita Sally Miller Gearhart passed away on June 14 in Ukiah. She was 90. The first out lesbian to be hired in a tenure-track faculty position at San Francisco State, Gearhart was an internationally renowned LGBTQ activist and a co-founder of the University's Women Studies program.
"From the moment she joined our speech faculty in 1973, I knew Sally Gearhart as an influence, a presence, a force — long before I knew Sally as my good friend. She brought women together, teaching us to unspeak, to confront our uncertainties, to give voice to some of our dreams," noted Nancy G. McDermid, College of Humanities dean from 1979 to 2002.
Gearhart helped establish one of the nation's first programs in Women Studies. SF State launched its Bachelor of Arts in Women Studies in 1977. Today, the University's Women and Gender Studies Department also offers a Master of Arts degree and a minor.
Gearhart was a radical crusader for LGBTQ rights. She worked alongside Harvey Milk to help defeat the 1978 Briggs Initiative, which would have banned gay teachers in California schools. She was also active in causes related to AIDS, animal rights and the environment.
"One of the major reasons I gave up tenure and rank at my previous institution to join the Communication Studies department at SF State was Sally's theoretical and activist legacy. Sally was a passionate activist and an adventurous theorist. In 2003, she embraced queer theory and wrote the foreword for my co-edited volume, 'Queer Theory and Communication: From Disciplining Queers to Queering the Discipline' [Harrington Park Press] that introduced queer theory to the communication discipline," reflected Professor of Communication Studies Gust A. Yep.
"As an activist, author and educator, Sally Gearhart left a pathbreaking legacy that is a model of the SF State spirit," SF State President Lynn Mahoney said. "Her contributions to helping establish our Women and Gender Studies Department enriched our campus for all who have followed."
Gearhart was an academic pioneer, initiating courses not yet taught elsewhere and challenging disciplinary scared cows. She created and taught wildly popular courses such as "Patriarchal Rhetoric," "The Rhetoric of Sexual Liberation," "The Rhetoric of Animal Liberation" and "The Rhetoric of Channeling."
Karen Lovaas (M.A., '80) chose to attend SF State specifically due to her admiration for Gearhart. "After evenings spent in her 'Patriarchal Rhetoric' seminar, I couldn't wait to get home to share with my roommates what we'd discussed and what new ideas and questions I had," said Lovaas, now an associate professor of Communication Studies at SF State. "I remember describing it to them as feeling as if the top of my head had been opened up, and all kinds of old beliefs and theories and narratives were flying out and all kinds of new perspectives and possibilities hopping in."
In the classroom, Gearhart openly shared her own perspectives, even those considered controversial, while simultaneously creating a safe place for others to disagree with her. The mutual love between instructor and students regardless of attitudinal differences was palpable.
Communication Studies Academic Office Coordinator Donna Smith described the enthusiastic engagements: "What a loss! We won't see her like again — such a pioneer, so charismatic and an astounding speaker, reminiscent of the great evangelicals who toured the country way back when, packing tents full of early Americans who hung on their very words enraptured. She frequently had an entourage of devotees who would follow her wherever she went on campus, like a cult queen, but it never went to her head." 
In a discipline steeped in the classical tradition of teaching persuasion, Sally argued that persuasion, the act of trying to change others, was an act of violence. She recommended instead embracing communication practices which emphasized listening, dialogue and co-creating.
Gearhart's writing spanned scholarship to science fiction to divination. "The Womanization of Rhetoric" (Women's Studies International Quarterly, 1979) represents one of the first works from a feminist scholar "to reconceptualize communication constructs or theories from feminist perspectives," Sonja K. Foss wrote in an obituary for the National Communication Association.
Gearhart co-wrote "A Feminist Tarot" (Persephone Press, 1977), bringing a female self-empowerment perspective to fortune telling. Women's Land, a female-only living community in Willits which Sally envisioned and co-founded, and her utopian novel, "The Wanderground: Stories of the Hill Women" (Persephone Press, 1978) were intertwined, with reality, vision and fiction nurturing each other.
Carol Wilder, former professor and chair of Speech and Communication Studies at SF State and dean of Media Studies & Film at the New School in New York, noted her uniqueness. "Sally was a matchless combination of courage and charm, passion and intellect," she said. "In the 10 years we shared an office [with late professor of Communication Studies Hank McGuckin] I was able to witness firsthand her deep caring for many adoring students. Whether she was the rigorous rhetorical critic or the fiery lesbian feminist, Sally Gearhart was one of a kind and she will be deeply missed."
Gearhart was born April 15, 1931, in Pearisburg, Virginia. She was raised mostly by her maternal grandmother after her parents' divorce. She earned a bachelor's degree in Drama and English from Sweet Briar College in Virginia, then a master's degree in Theatre and Public Address from Bowling Green State University and a Ph.D. in Theatre from the University of Illinois.
She is featured in several notable documentaries, including "Last Call at Maud's" and the Oscar-winning "The Times of Harvey Milk." Health Education Lecturer Deborah Craig has directed documentaries, "A Great Ride" and "Sally," about her. In the 2017 ABC miniseries "When We Rise" — based in part on SF State alum Cleve Jones' memoir — actress Carrie Preston portrayed Gearhart.
During her SF State tenure, Gearhart also served as Communication Studies department chair and School of Humanities acting associate dean. She retired in 1992. Her personal and academic papers are entrusted to University of Oregon, home of the Sally Miller Gearhart Fund for Lesbian Studies.
She is survived by a large lesbian feminist community, a movement for social justice and many members of her chosen family. A statement on Gearhart's website concludes: "In lieu of flowers, donations or memorials, go out and love more."