Commencement speakers say Class of '21 will 'lead us to better days'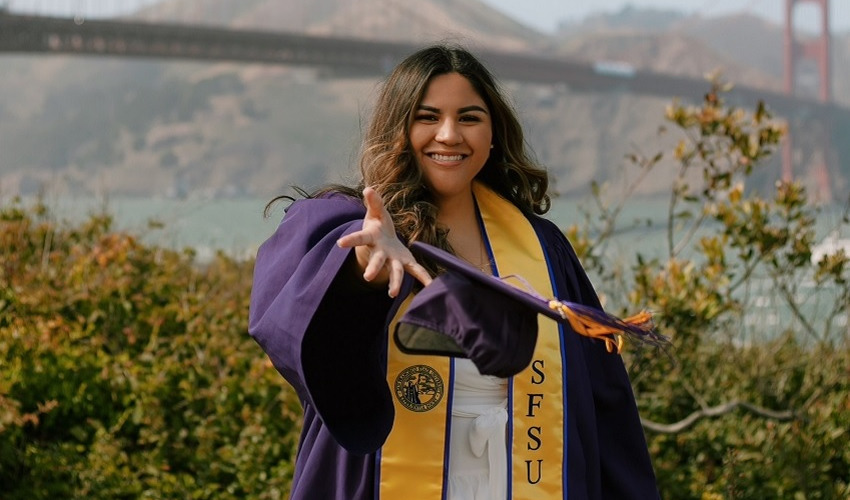 The University honored more than 8,400 graduates at a virtual Commencement ceremony May 21
More than 8,400 graduates in San Francisco State University's Class of 2021 were urged to put the resilience they've developed over the past year to use changing the world for the better by speakers at a virtual Commencement ceremony Friday, May 21. The graduation event  — the University's 121st Commencement ceremony — was presented online due to COVID-19. In her remarks, San Francisco State President Lynn Mahoney said that the hardships of the global pandemic have prepared students to tackle the other major challenges our society will still face after it's over.
"I have confidence that the class of 2021 will lead us to better days," she said. "You've demonstrated an ability to succeed even under the most challenging circumstances. You've demonstrated a commitment to equity and social justice. You've demonstrated determination, resilience and grit."
California State University Chancellor Joseph I. Castro echoed those sentiments, telling graduating Gators that their academic success despite an ongoing global crisis proves that they have what it takes to achieve their goals and make the world a better place.
"The ingenuity, adaptability, endurance, resilience and resolve that you've relied upon to meet the extraordinary challenges presented by this extraordinary time have turned into an unstoppable force," he said. "With these qualities, which you've demonstrated again and again, coupled with the knowledge and skills you've developed over the course of your academic journey, there is no obstacle you can't overcome. There's no personal, professional or academic challenge you can't conquer. There is no goal that's too bold."
Special guest speaker Shamann Walton, president of the City and County of San Francisco Board of Supervisors, also expressed his confidence in the Class of 2021. An SF State graduate himself — he received his Master of Public Administration from the University in 2010 — Walton shared three keys to success. The first two: Never be content with average and know where you're going.
"And last, as you're successful — as I know you will be — make sure you reach down and give back to people," Walton said. "In the words of my favorite painting by Gilbert Young, 'He Ain't Heavy.' Make sure you understand that, and always provide an opportunity for others."
The virtual ceremony was available live on SF State's YouTube channel, where it is archived. Other speakers included outgoing Associated Students President Andrew Carrillo and two graduating students — Eliana Hernandez, who graduated with a B.A. in Ethnic Studies, and Krista McNally, who received an MBA. A live Commencement ceremony for the Class of 2021 will be held when public health guidelines allow.
More details are available at commencement.sfsu.edu.