Centenarian reflects on ways SF State transformed her life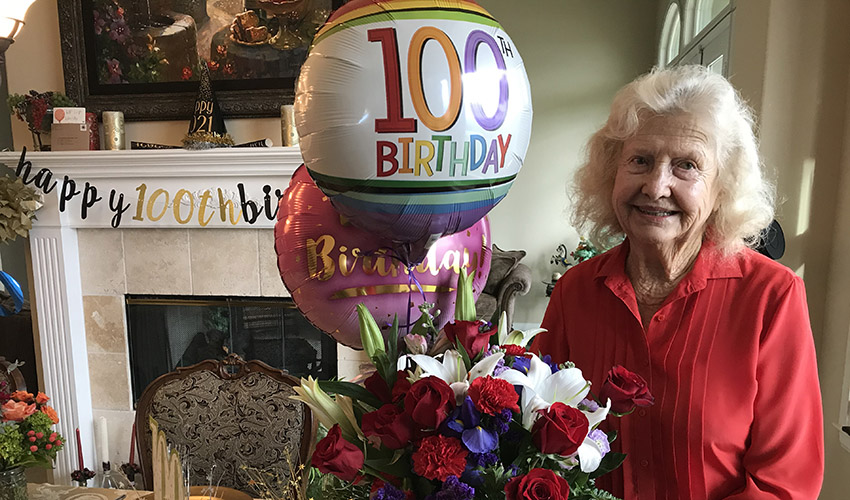 Class of '44 alumna Lucille Wendling looks back on pivotal moments that shaped her journey
Some people can pinpoint the exact moment their life changed. For some, it was a cross-country move. For others a new job. For Lucille Wendling ('44), who turned 100 years old in January, it was stepping onto the San Francisco State University campus in 1939. A graduate of Oakland High School, she applied to San Francisco State College (as it was known at the time) to study education and art. What she didn't know then was that earning her degree would change the course of her life.
Her adult life really began at San Francisco State, she says. It's where she met Aubrey Wendling ('44), her husband of 71 years; it's where she began her career as an educator; and it's the place where she made lifelong friends. "It was a very important, formative part of my life," she said. "The camaraderie and the smoothness, even though it was a difficult time with the war going on in Europe. You just can't replace something like that."
The close-knit community and friendly faculty lured her over from the East Bay, she says. She'd ride the street car on Market Street and walk from there to campus, then located at Haight and Buchanan streets. At the time, the University was the size of a city block or two. The school had a bookstore, a cafeteria, a lawn for congregating, separate gyms for men and women, a football team (but no football field) and lockers, which proved to be fertile ground for socializing.
"[Aubrey] had a locker near me. We'd pass each other and talk, and then things happened," she said. They got married after their sophomore year and moved into an apartment together near campus on Page Street, she says.  
They were what some might call a campus "power couple" — Aubrey Wendling was student body president and she was active in clubs. Aubrey even took part in the groundbreaking ceremony at Lake Merced to mark the construction of the new SF State campus. Lucille was a member of Alpha Omega, a social club for women started by the dean of women in 1938. The club sponsored events and would do creative dance, an activity akin to aerobics.
"We have many surviving members. Many of us still meet the Saturday after Easter. We would meet at the Palace Hotel and later at the Harding Golf Course Clubhouse," she said. "Most of the women come with their daughters." One of her friends from the group of about 25 women, Thelma (Tillie) Schiller turned 100 in 2019, and they remain close.
Amid the socializing and budding romance, Lucille devoted herself to art and education. She remembers taking a life drawing class during freshman year and getting an unexpected surprise. "There was a model there with a pretty robe on. I was all ready to draw the person with the robe," she says. "And when I looked up the robe was off. She was, of course, posed nicely, though."
She credits her art training as a key ingredient for her more than 30-year career as a teacher. "I always brought art into all my subjects, even math," she said.
After Lucille and her husband graduated from SF State, she taught in Palo Alto while Aubrey served as a purser/pharmacist mate for the U.S. Coast Guard aboard a cargo ship in the South Pacific. A few years later they moved to Seattle, where her husband pursued his master's and doctorate degrees in Sociology from the University of Washington. She taught in the Seattle area before moving to San Diego in 1954. Her husband taught at San Diego State University, and she was an elementary school teacher in San Diego city schools. They raised a daughter together, Laura Marie, who is a Professor of Education at California State University San Marcos. Aubrey Wendling passed away at the age of 94 in 2012.
Although it's been many years since Lucille Wendling attended SF State, the school looms large in her heart. "It's difficult to say just how much it meant, but it couldn't have been a better place for me at that time," she said. This year she gave her annual contribution to SF State, but this year's gift was a touch more meaningful — it was in honor of her 100th birthday.
Share your SF State story with us. Email us at pubcom@sfsu.edu.