Business Ethics Week to tackle the ethical questions of a turbulent time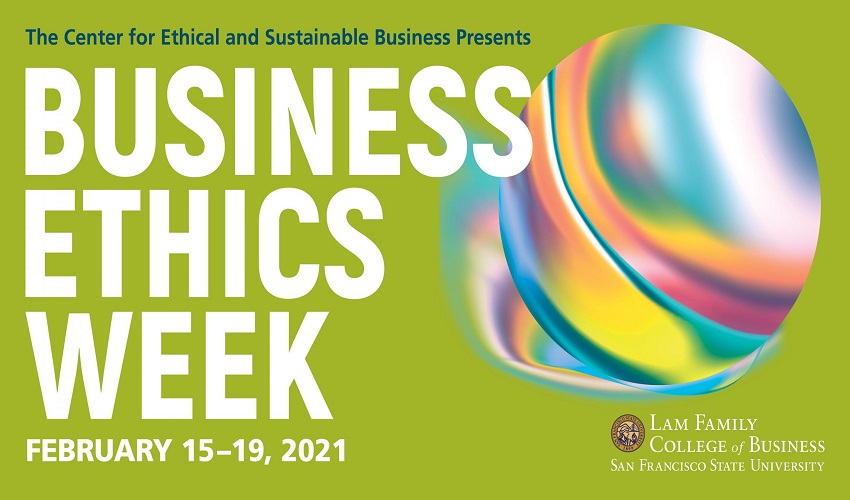 The annual Lam Family College of Business event will feature discussions sparked by the pandemic and the Black Lives Matter movement
Business Ethics Week — a series of events bringing together scholars, entrepreneurs and students to explore the sometimes thorny right-and-wrong of commerce — has been an annual tradition at the Lam Family College of Business at San Francisco State University since 2006. While it has always focused on topical issues such as social justice and environmental sustainability, this year they're at the forefront more than ever — and in more ways than one. Not only will Business Ethics Week 2021 be held virtually this year due to COVID-19, several panel discussions will directly address the unique business dilemmas created by a global pandemic.
Running from Feb. 15 to Feb. 19 via Zoom, this year's events will include such topics as "COVID and the Global Response," "Ethical Finance for a Post-Pandemic World" and "The Ethics of Distribution of a Vaccine in a Pandemic: Privilege, Priority and the Principles We Use to Decide." Equity and the Black Lives Matter movement will be addressed in multiple discussions, as well, including one called "Equity and Community Inclusion: From Campus to Career."
"We especially wanted to emphasize this as a kind of common thread running throughout this year's events," said Professor and Department Chair of Hospitality and Tourism Management Colin Johnson.
Johnson is the co-director of San Francisco State's Center for Ethical & Sustainable Business, which organizes Business Ethics Week. His co-director, Professor of Management Geoff Desa, says it was hard to mirror the vibrancy and energy of physical events this year. However, the sessions gave him and Johnson the opportunity to bring in speakers from beyond the Bay Area. Hopefully, free Zoom access will also encourage more students and community members to take part — though reaching a wide audience has never been a problem.
"This is the 15th year for Business Ethics Week. Thousands of students have attended sessions over the years," said Desa. "Last year we had over 800 attendees across eleven events. Faculty across the college integrate speaker content into their classes and host discussions with students during the week." 
A full listing of Business Ethics Week 2021 events — including Zoom registration links — is available on the Lam Family College of Business website.