Board of Supervisors president says SF State prepared him for public office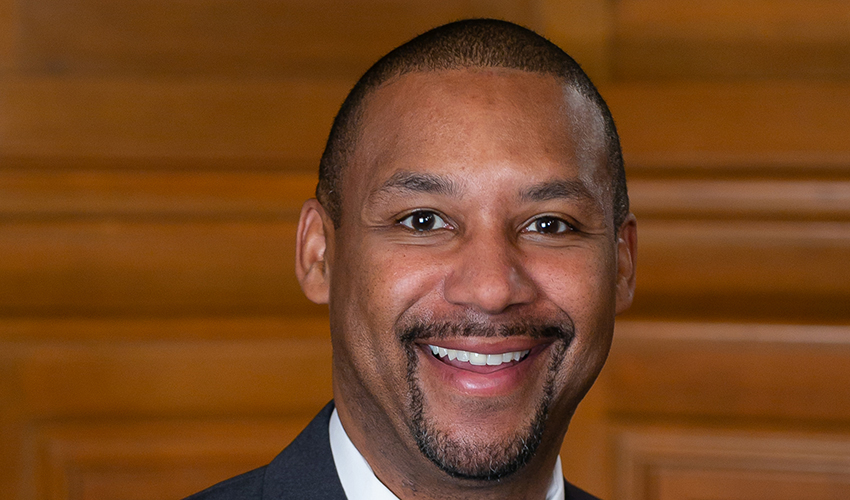 MPA program sharpened his focus on equity and his understanding of how government works
Hanging in San Francisco Supervisor Shamman Walton's (MPA, '10) office is a photograph of his mentor Philmore Graham, founder of the Omega Boys Club in Vallejo — a club that he says saved his life. Its mission was to create a college pipeline for Black male youth. Walton got into trouble at school and spent time in juvenile hall, but the club set him on a different path — one that began with a four-year degree from Morris Brown College in Atlanta and later a Master's in Public Administration (MPA) from San Francisco State University. Now, as the county and city's first Black man elected president of the Board of Supervisors, through public policy, he's carving out similar pathways for the Black community.
In high school, Walton says he aspired to lead reform efforts in his community. He knew he'd have a role in government, but he couldn't see the exact path he'd take to get there. It turns out that path was shaped like a circle. Walton grew up in public housing in Potrero Hill and Bayview. Years later, he worked in nonprofits and education serving those same communities. In 2018, he was elected supervisor of District 10, which encompasses those same neighborhoods. He credits San Francisco State with preparing him for that leap to government. There's not a day that goes by in his current role that he doesn't use what he learned at SF State, he says.
"The MPA program taught me how government works, how resources flow from all levels of government — federal, state to local," he added. "The program is second to none in preparing you for a life in government."
He was drawn to SF State for its historic commitment to social justice, equity and inclusion, something his instructors lived and breathed, he says. "We live in a diverse world. In public service, it's important to understand and build relationships with the communities and the cultures around you. All of my professors understood that and taught from that perspective," he said. "It's a testament to the leadership at SF State that professors know and understand that different cultures are important, that diversity is important and to bring all that to a leadership role is important."
The program sharpened his focus on equity, something he's used to draft groundbreaking legislation for San Francisco. For instance, Walton co-authored a measure, approved by the Board of Supervisors, that would close the city's juvenile hall by the end of 2021. Instead of jailing youth, the city will expand alternative community-based programs focused on rehabilitation.
Another major project he's working on is developing a reparations program for the descendants of African American slaves living in San Francisco. He assembled a task force in early 2020, and it's strategizing ways to put a monetary value to the historic injustices the Black community has endured, such as discriminatory housing policies, mass incarceration and the lack of Black business and/or home ownership.
"When we first came to this country, our language was taken away and we couldn't get an education. That's kept us from building generational wealth," he said. "The reparations package will allow us to create some of that wealth and overcome some of the gaps and disparities for the Black community and create positive outcomes." It's unclear yet if reparations will take the shape of direct payments to families or will fund specific community programs.
When he's not working on landmark legislation for City Hall, Walton is making a difference elsewhere — including in the classroom. He's a frequent guest lecturer in the public administration program at SF State. He tells students considering careers in government that a good place to start is volunteering and reaching out to local officials, professors and educators. Patience and perseverance are important ingredients for this type of work as well, he adds, because change doesn't happen overnight.
"You're not always going to start off in leadership roles. You have to work through all the steps," he said. "I've had a paper route. I've worked at a Boys and Girls Club, I've taught in a classroom, I've worked in public housing. I've had all kinds of jobs that have led to give me to the experience and opportunities I have today. You never know what opportunities are going to lead to next, so you have to be faithful in the work that you do. Understand that these things don't happen overnight — perseverance is key."