Black History Month: Q&A with SF State Black Unity Center director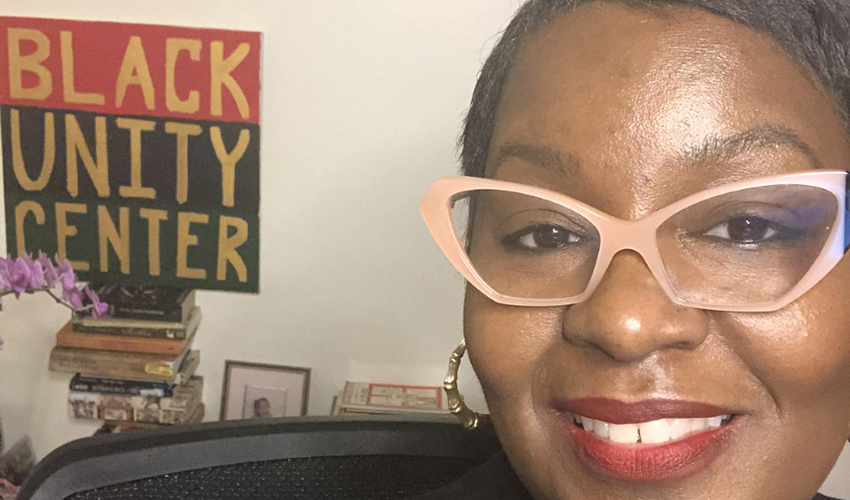 Tarshel Beards, director of Black Unity Center, reflects on Kamala Harris and importance of Black representation
Every February, Black History Month honors Black people along with their achievements and history. Tarshel Beards, director of the Black Unity Center (BUC) at San Francisco State University, recently spoke to us about the annual celebration, the importance of Black representation and more.
What does Black History Month mean to you and how do you celebrate it?
I love Black History Month. I'm from Brooklyn, New York, and my love started in the community, particularly at the local library and Black-owned bookstores that hosted lectures, author signings, community dinners and drum circles I attended. One of my fondest memories was a lecture by writer and historian Yosef Ben-Jochannan that ignited my desire to study Kemet (Ancient Egypt) and I love author Richard Wright because a librarian introduced me to his work during a program.
These gatherings were diverse with Black people from around the diaspora, a representation of my Crown Heights community. Our celebrations incorporated traditions from various cultures from the Caribbean, Africa and America.
These experiences of my youth shaped my life. While I celebrate Black history and culture all year, February is special; I focus on honoring the ancestors, reflecting, supporting events and Black-owned businesses.
How does it feel to have our country's first Black vice president?
When the election results confirmed Kamala Harris' victory, she took the stage last November and gave her acceptance speech to "Work It" by Mary J. Blige. Black Twitter blew up because it was a huge #BlackGirlMagic moment.
I was moved to see a Black woman ascend to the second-highest official in rank of our government and address the nation to a song by Blige, a homegirl from New York City. I think many Black women were teary-eyed that night because we were on that stage too.
Also, Harris is vice president because of the hard work of Black women. So as I celebrate her, I also honor some of the ancestors who paved the way such as the first African American woman in Congress, Shirley Chisholm, who also ran for U.S. president, and women's rights activists Sojourner Truth and Fannie Lou Hamer.
I must give a shout-out to community organizers like Stacey Abrams of Georgia, Wendy Caldwell-Liddell of Michigan and others who mobilized the Black community to vote in recent years. The organizers' efforts created a shift in the country's political landscape and were instrumental in making the Biden-Harris administration possible.
What words of wisdom do you have for the next generation of Black people who want to work in higher education?
Take Black studies courses. Knowledge of self is paramount to success in any career or industry.
Be mission driven. A university or department's mission should mirror your professional and personal values.
Always view yourself as an educator. Titles and job descriptions are important. However, I believe that if you always view yourself as an educator, it keeps you focused on what's important: students
As BUC director, one of your responsibilities — among many — is supporting the success of Black students at SF State. Do you have any memorable moments doing that?
Yes, the relationships I formed with students is by far my greatest accomplishment. I slightly shifted my career from teaching to student affairs. l wanted to work with students in a different capacity but still help during their academic journey. I am inspired by our students. They are pretty dope! I want students to know that I am their advocate and biggest cheerleader. If I'm at the table making decisions that may affect students, they are at the table, too. I represent them and I strive to create authentic, meaningful relationships with our students.
I am not alone with this work. BUC's Bucket Manyweather and Briana Williams as well as our other colleagues in the Division of Equity & Community Inclusion help and are passionate educators.
For a list of Black History Month programming at San Francisco State, visit this calendar of virtual events.