Biochemistry professor awarded prestigious early-career grant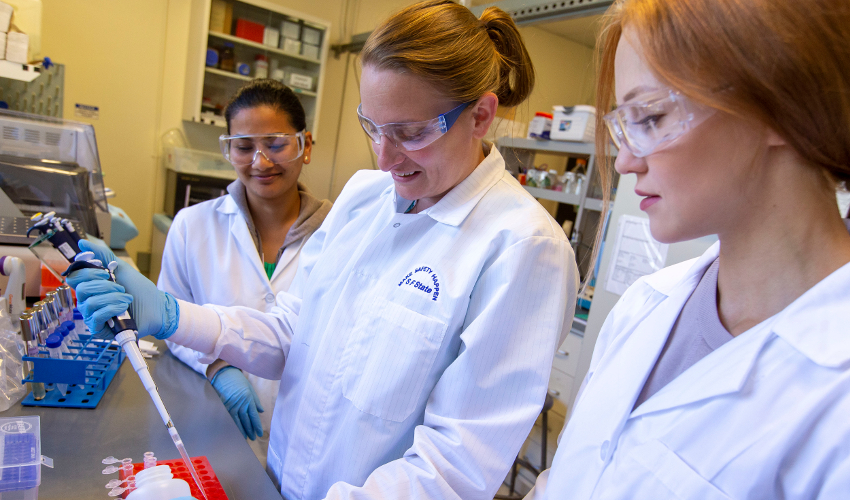 The National Institutes of Health award will fund five years of Misty Kuhn's bacterial protein research
San Francisco State University Assistant Professor of Chemistry and Biochemistry Misty Kuhn received a prestigious $1.9 million grant from the National Institutes of Health (NIH) in August. Typically awarded to research-intensive universities, the Maximizing Investigators' Research Award for Early Stage Investigators grant is aimed at launching the careers of highly talented young faculty members. It will fund five years of Kuhn's research delving into the shape and functions of proteins that could lead to clues about how to fight disease-causing bacteria. Kuhn, the second person to receive the award in the California State University system — and the first woman to do so across all 23 campuses — is the first recipient at San Francisco State.
"This grant is awarded to outstanding investigators," said Dean of the College of Science & Engineering Carmen Domingo. "We are incredibly proud of Misty's achievement. To be selected for this grant, Misty showed that this highly technical work could be performed here at SF State and, importantly, with our students."
Kuhn's work will focus on a group of under-researched proteins called polyamine acetyltransferases, laying the foundation for understanding how they function in bacteria. On one level, the research is driven by Kuhn's curiosity. "I'm really trying to more broadly cover this unknown space of the protein world," she explained. "My lab is involved in determining the details of how these enzymes work and what they look like."
In that unknown space may lie hints about fighting some dangerous diseases. Bacteria have the ability to grab DNA from their environment — and when that scavenging allows them to build the kind of proteins Kuhn studies, the microbes can become resistant to antibiotic medications meant to kill them. There's a pressing need to figure out how this process happens: Bacteria that have evolved defenses against antibiotics are a global danger, causing more than 23,000 deaths each year in the U.S. alone. And the problem is only getting worse.
By studying the shapes of these enzymes and how they interact with other molecules, both in bacteria that cause disease and those that don't, the team will be preparing the groundwork for research to determine how bacteria thrive and survive in different environments. "We're trying to understand more about the fundamental knowledge in this area of research so we can understand how pathogens are able to survive when they have these enzymes," Kuhn said.
The award will pay for the work of student researchers — Kuhn's lab currently hosts 15, mostly undergraduates — as well as the purchase of state-of-the-art equipment that will let the team explore the proteins in more detail.
"This grant will enable us to bring new technologies that we don't currently have here at the University, which will add to the depth of student training," Kuhn said. "That's huge for us. Now we will have the tools we need and can actually focus on the science."
The funding agency for the Maximizing Investigators' Research Award for Early Stage Investigators grant is the National Institute of General Medical Sciences, part of the National Institutes of Health.