Alum's company aims to limit plastic one reusable water bottle at a time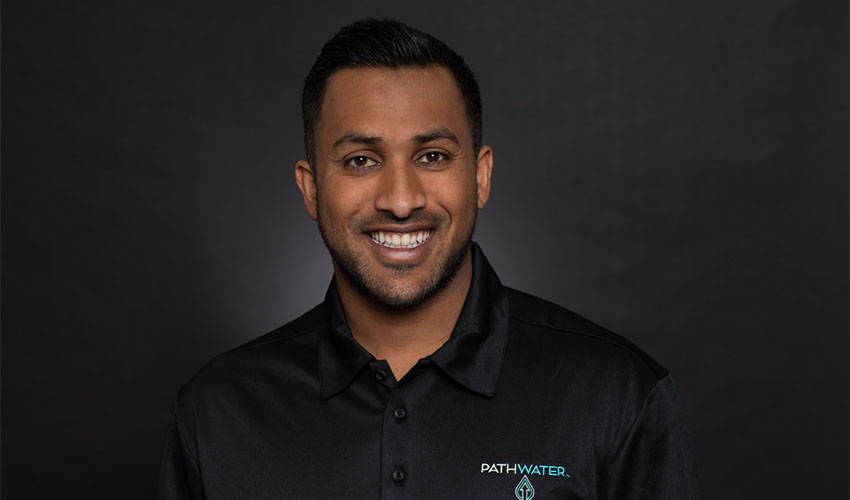 Gulshan Kumar comes full circle with company's partnership with SF State
Gulshan Kumar (B.A., '15) is honest about his journey to environmentalism: He came to it because he saw a business opportunity. And like all good entrepreneurs, he jumped on it. He's now vice president of sales for PathWater, a reusable water bottle company he helped start. PathWater products are sold by more than 35,000 retailers across the country, including Sprouts, Safeway and the San Francisco International Airport, and the company also has partnerships with Intuit, Dropbox, Facebook, Tesla and Orange Theory. Recently, it added another partner that's near and dear to Kumar: his alma mater, San Francisco State University.
Kumar first reached out to San Francisco State a few years ago to discuss a possible collaboration. The right moment arrived this year, as students, faculty and staff began preparing to return to campus for the Fall semester. Students moving into University housing will receive a reusable aluminum SF State water bottle after they move into their residence halls. Bottles will also be distributed to staff and faculty at Convocation on Aug. 18 and will be available to purchase at campus stores.
This move by campus leaders aligns with SF State's sustainability goal of becoming zero-waste. The University is on the right path, diverting 80 percent of its waste from landfill. "These PathWater bottles will make it easier for our students to reduce waste on campus as we phase out single-use plastics," said SF State Sustainability and Transportation Projects Manager Nick Kordesch. "We've installed water bottle filling stations throughout campus so students can save money while preventing plastic pollution."
Any effort that curbs the use of single-use plastic items is a step toward a greener future, Kumar says. "Globally, plastic is recycled less than 10%, versus aluminum, which has a 70% or higher recycle rate," he said. "The best form of sustainability is reusability, and we want to teach consumers to use less."
Before joining PathWater, Kumar had his heart set on a career in business. It's in his blood, he explains. His father emigrated to the U.S. from the Fiji Islands and started a printing and binding business. Thirty years later, his father just sold his company. "Everything I learned about life and business came from my dad," he said. "He shared basic things like, 'Nothing comes easy, you have to work for it. No one's going to bring it to you on a platter.'"
After graduating from SF State's undergraduate business program, he was ready for his next opportunity. He found it in an unlikely place: High school friends told him about their idea for a reusable water bottle company. He immediately saw the vision. "I believed in it. I saw the roadmap," he said.
He joined PathWater in 2017, helping turn the early stage idea into a thriving company. But the road to success wasn't without bumps. The first three years were far from glamorous. It was five people crammed into a 500-square foot office and a lot of hustling up and down the state trying to sell water bottles. "We would have 50 cases in the backseat of our cars and go door-to-door to 7-Elevens and schools, trying to build a brand," he said. "That's just the reality of entrepreneurship. It's not pretty."
Finally, after two years they secured an account with the Hayward Unified School District. The company started to feel viable, he says. And then more business began to trickle in. In the span of four years, PathWater went from being a local brand to a regional brand to a national brand.
While some consider his company to be an overnight success, Kumar's dad continues to dish out business advice. "Old school, international fathers are always going to be pushing you, which I love," Kumar said.
More details about the PathWater reusable bottles can be found on the SF State Office of Sustainability website.