Alumna creates campus event series dedicated to uplifting Black voices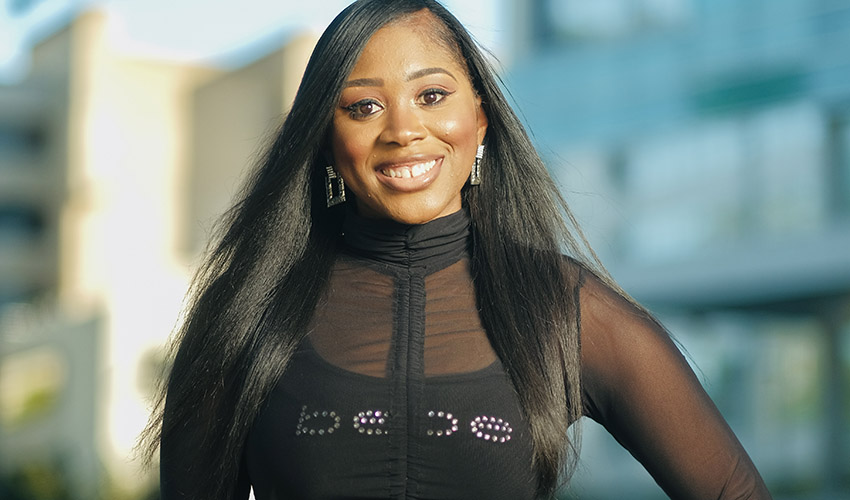 Sha'Nice Robinson started the Soul of SF State to support the Black community on and off campus
Growing up in Richmond, California, Sha'Nice Robinson (B.A. '15; M.A. '18; M.Ed. '19) was silent on issues of social and racial injustice. "I would see things happening in the community and I wouldn't say anything because I just wasn't knowledgeable," she said. But that ended when she came to San Francisco State University in 2011 as an undergraduate. She transformed into an "agent for change" after majoring in Africana Studies, she says. "I finally learned about myself," she said. This awakening inspired her to ignite that spark in others as an event organizer, a teacher and a future leader.
Last fall, with the help of fellow alumni and faculty from the Graduate College of Education, Robinson co-founded the Soul of San Francisco State, a series of virtual events celebrating the Black community. The timing was key, given the onslaught of news about police violence against the Black community. There was a need for positive programming, she says. The Soul of SF State events have included a Black History Month celebration featuring San Francisco Mayor London Breed and city Supervisor Shamann Walton (MPA, '10) as speakers; the Black Excellence Awards honoring Black students, staff and faculty; and an April 24 event featuring Black Lives Matter co-founder Alicia Garza (M.A., '17).
"I want to uplift the Black souls of San Francisco State and beyond," Robinson said. "The mission of these events is to center the needs, voices and experiences of Black students, staff and community members."
Doris Flowers, professor and chair of the Equity and Social Justice program in the College of Education, is a co-founder of the Soul of SF State but says Robinson was the real "soul" behind the project. Making a meaningful difference in people's lives is what drives Robinson, Flowers says. "Sha'Nice is raising two young sons, and given the overwhelming assault on Black males, it is critical for her to provide a safe and inclusive space for them. She believes that 'you can't be what you don't see,'" she said. Robinson has experienced and witnessed firsthand the impact of racism, Flowers adds. "It is traumatizing to the physical, mental and spiritual soul of Black people. She is determined to be the difference and has already begun that journey through education and community building. She is a powerful force who is already paving the way to a better, more equitable and brighter future."
But even before the Soul of SF State, Robinson was uplifting members of her community. After completing her B.A. in Ethnic Studies in 2015, she taught history and economics at her alma mater, John F. Kennedy High School, and developed a blueprint for an African American Studies curriculum. She left before it was implemented, but it's something the school eventually adopted.
Robinson took a break from teaching to return to the college classroom in 2017. She earned an M.A in Ethnic Studies and later an M.A. Ed. in Equity and Social Justice all while working as the campus undergraduate admissions coordinator. It's during this time she discovered her career path. She wants to be a college dean or provost. Come the Fall 2021 semester, she will be one step closer to that dream when she begins a doctoral program in Educational Leadership in SF State's Graduate College of Education.
"I want to broaden my understanding of equity and social justice from a leadership perspective," she said. "I don't see enough representation of people who look like me in those spaces, and I want to pave the way for the generation behind me to be able to dream bigger than me."