Alum takes his LGBTQ and mental health advocacy to the White House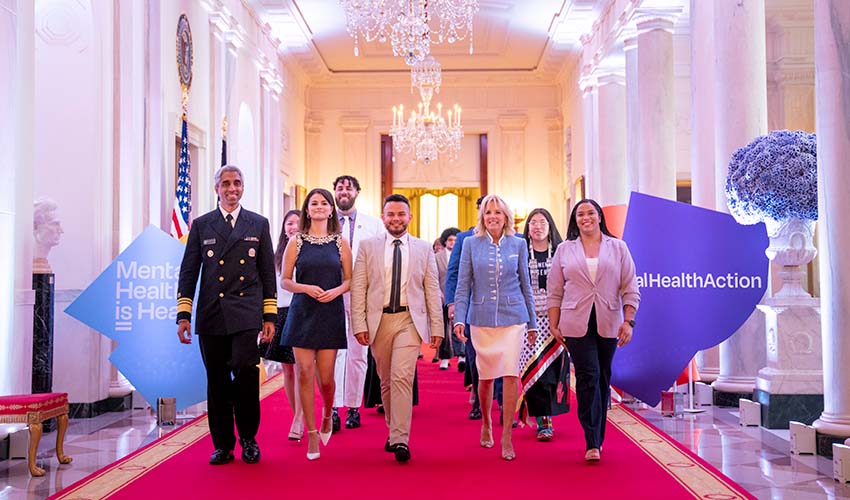 Juan Acosta ('19) was one of 30 youth advocates invited to Washington, D.C., for a national forum on young Americans' mental health
"Today I can say with a lot of pride that I am a gay man," declared Juan Acosta (B.A., Psychology, '19) on a stage at the White House, sitting between First Lady Jill Biden and actress Selena Gomez. "But that pride I didn't feel when I was younger."
Acosta was one of 30 youth advocates invited to Washington, D.C., for the inaugural Mental Health Youth Action Forum this May. The three-day event was organized by the Biden-Harris administration and MTV Entertainment Group.
"I'm an immigrant in this country. I came here at age 2," he explained to SF State News a few weeks before the event. "It's such a beautiful moment for me, but also for my family."
Growing up in Woodland, California, Acosta struggled to feel included and accepted by his community. Coming from Jalisco, Mexico, there were some language barriers, he explains, and challenges in school took a toll on his mental health.
"In addition, I started getting labeled many things from a very young age before I was able to claim them myself, which felt really intrusive," he shared.
It wasn't until he was a teenager and started volunteering with like-minded people who wanted to make a positive change that he began to feel like he belonged in his community.
"A lot of the work I've done has been informed by my own lived experience and the stuff I underwent growing up and my desire to help change some of those things so that it would be a little bit easier for the younger generation that came after me," he said.
In 2018, literally weeks before transferring to San Francisco State University, a 21-year-old Acosta decided to make a major mark on his hometown: an LGBTQ+ pride proclamation. A similar resolution had been rejected by Woodland's City Council in 1998.
"I did not know I had that bravery within me to take on that heat and to be out there like that, and it took a lot of courage, looking back," he said, sharing that he stayed up all night researching how to help draft such a proclamation.
With the support of others in the community, the proclamation passed unanimously. It was labelled as controversial by some at the time, he recalls. But now there are pride activities and posters, rainbows and flags on display around Woodland.
"When I was doing that proclamation, what came to mind was the other young kids who were growing up in that same town and them feeling supported and not having to go through similar things I underwent in my community," Acosta said.
He even shared his experience in Lady Gaga's New York Times bestseller "Channel Kindness: Stories of Kindness and Community." The collection of inspirational tales from community activists includes a chapter by Acosta.
Given his passion for change, Acosta knew he'd move to San Francisco. The city was a hub for social justice movements, and he'd watched several change makers go to San Francisco State. His experiences at the University — such as serving as assistant director of the Queer Alliance club — helped him learn how to support students and foster safe environments. He was awarded the University Scholarship in 2019.
Acosta currently works as one of the regional managers for the CalHOPE Warm Line, which connects callers dealing with anxiety triggered by the pandemic to peer counselors. He also continues to write, speak and collaborate with such organizations as Mental Health America and the California Mental Health Services Oversight and Accountability Commission.
In the weeks leading up to the Mental Health Youth Action Forum, Acosta worked with other participants to design mental health campaigns aimed at government officials, media partners and brands. Their goal, he explains, was to improve representation and get organizations to uplift diverse communities and voices and make mental health resources more accessible.
"My group, we all came together because we all believe in intersectionality. And we believe people shouldn't feel broken for being who they are," he said at the White House. "And we realized that it is not us as people who are broken. It is society that is broken. We want people to find the OK in broken."
Learn about the CalHOPE Warm Line and SF State's LGBTQ+ and mental health resources.