After 50 years of teaching, professor still enjoys the challenges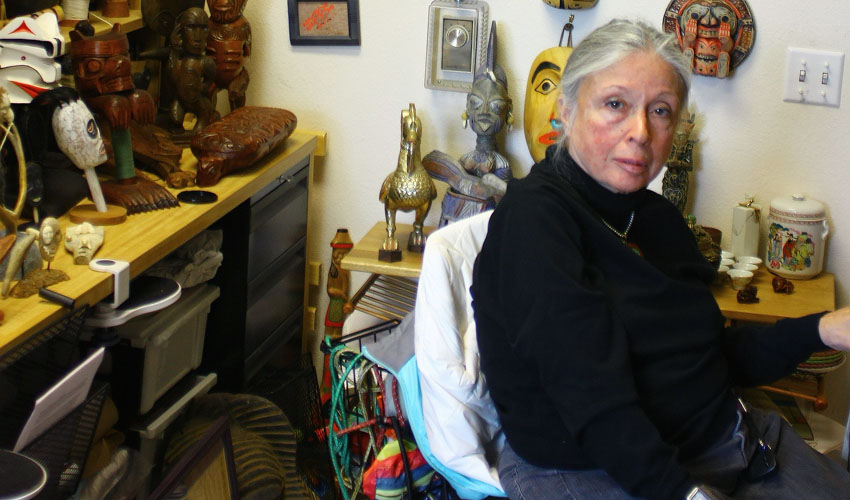 Anita Silvers, professor and chair of the Department of Philosophy and a nationally recognized advocate for disability rights, begins her fiftieth year of teaching full time at San Francisco State University this year, a distinction no other current faculty member can claim. And it's the first and only job she's ever had.  
"When I went out into the job market after earning my Ph.D., people kept saying I was 'too fragile' to teach," said Silvers, who was disabled by polio as a child and uses a mobility scooter. "I had already taught a large auditorium class with 300 students at Johns Hopkins University, which at the time was all male. I wasn't, apparently, 'too fragile' to do that, but this is a stereotype that people with disabilities live with."
Silvers has been dispelling stereotypes ever since. She's led the Department of Philosophy twice as chair, from 1981 until 1986, and again in 2006, a position she has held since. She has co-authored or co-edited nine books, and her publications contributed to the legal interpretation of the Americans with Disabilities Act of 1990.
She was awarded the Quinn Prize from the American Philosophical Association (APA) in 2010. Silvers remains the only scholar from a non-doctoral-awarding university and only faculty member in the California State University system to receive the honor. In 2013, the Phi Beta Kappa Society awarded her their first-ever Lebowitz Prize for "Philosophical Achievement and Contribution." In 2013, she received the CSU's Excellence in Service Award as part of their recognition of outstanding faculty.
During the past decade, SF State's master's degree program in philosophy has consistently ranked among the top 10 in the U.S.  "The thing I'm proudest of is being able to bring our department to national recognition because it's made such a difference in our students' ability to get into top-notch doctoral programs," said Silvers.  A 2015 external review report lauded the program's "exceptional national impact" in launching students from underrepresented groups into careers in philosophy.
Last spring, Silvers was honored for her 49 years of service with a reception, lauded by faculty members, colleagues, as well as former students who have pursued their doctoral degrees in philosophy and are now teaching at universities throughout the country.
"It's really a thrill to start students on the route to successful careers. It's been this way almost from the time I started teaching," said Silvers. "Watching students, many of them the first in their families to attend college, who initially did not know how much they were drawn to philosophy, turning on to its pleasures, going off to teach at every level of education or to doctoral programs."
"Anita Silvers has an extraordinarily large and diverse array of mentees: scholars, politicians, medical researchers, teachers, activists ... She has shared her time and knowledge very widely, with more generosity than we mere mortals can ever hope to achieve, and the evidence of her generosity is everywhere," said Justin Tiwald, associate professor and assistant chair of the Department of Philosophy.
What's kept her at SF State for so long?
"I feel privileged to contribute, and it's an enormous pleasure when people tell me I've nourished their confidence in themselves, shown them how to enjoy opening their eyes and minds and inspired them to find innovative ways of dealing with the barriers they thought would always block them," she said. "And, of course it's a pleasure to devote my academic resources and connections to assisting philosophy students and to teach one of my specialties, medical ethics, to students from many disciplines."  
As she approaches her fiftieth anniversary, Silvers says she has no interest in retiring or working part time.  
"Even after 50 years I'm still thrilled and blessed to have a job, and that's why I don't mind all the hours, the challenges — I still get pleasure in solving an administrative or instructional problem and making other people's lives go a bit better."