Classic African American culture series rediscovered
In 1968, Mwanza Furaha was a Bay Area dancer and singer just getting her feet wet as a performer. She auditioned for a television program about African American culture and heritage and felt incredibly lucky to land a prominent role. But it was only years later that she realized just how lucky she was to have had the chance to work closely with the show's writer, producer and host: poet Maya Angelou.
"I was young and honing my craft, and I was grateful to know her," Furaha said. "But it wasn't until later on I understood how important she was to America." By the time Furaha had grasped the significance of her experience and wanted to see the show again, it was nowhere to be found.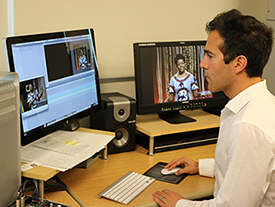 Furaha was not the only one to search for the series. Angelou herself wanted to see it but could not track it down. And then there was Alex Cherian, San Francisco State University's resident film archivist.
In 2009, Cherian was reviewing film canisters in SF State's Bay Area Television Archive, considering options for a digitization project -- footage that would see the light of day rather than remaining buried on a shelf. A can scrawled with the name "Angelou" caught his attention. "That was all I had," Cherian said. "I was hoping that it featured Maya Angelou, but I had no idea."
This discovery led Cherian on a five-year search that has resulted in a boon for African American television history. Cherian has recovered and made public the full 10-part Angelou series "Blacks, Blues, Black!" -- which went unseen for decades.
Filmed at the KQED studios in San Francisco, the program was produced and hosted by Angelou, the influential poet, actor and author, best known for her book "I Know Why the Caged Bird Sings." The series examines the influence of African American culture on American society, with episodes exploring dance traditions, history, art, literature and music (including an interview with blues legend B.B. King).
The footage fragment Cherian found was part of the collection SF State had recovered from local TV stations and is now hosted at SF State's J. Paul Leonard Library. "In the early '80s, most stations started dumping film, thousands and thousands of cans," Cherian said. "When interested parties realized what they were doing, SF State said, 'Don't throw it away! Give it to us.' That's why we had this can -- sometime in the 1980s someone at KQED grabbed it off a shelf and said, 'Send it to State.'"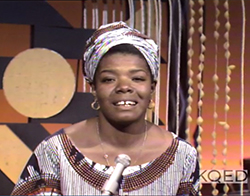 But the canister contained only 17 minutes of footage. After seeing this fragment, Cherian embarked on a quest to find the rest of the series. "Maya Angelou -- one of the great minds of our time -- made an entire series about African American heritage," Cherian recalled thinking. "Why isn't it available? It makes no sense."
And nobody knew where it was. "We didn't have it, KQED didn't have it, none of the college libraries that I contacted had it," Cherian said. "I kind of gave up after two or three years because I was hitting a brick wall. I knew a lot of material from that period had been destroyed."
Then, about a year ago, he contacted the Library of Congress as a last-ditch effort, and a staffer there immediately responded with good news: The Library had the full series on two-inch video, the original broadcast format. After Cherian figured out that the rights to the series were owned by KQED, the station agreed that it could be made available on SF State's digital video archive, hosted by the Digital Video Information Archive (DIVA).
In May 2014, Cherian contacted Maya Angelou's office manager, who had been searching for the series for 10 years at Angelou's request, to let her know it would be digitized and made public. "She sent me an email back saying that Maya Angelou was 'over the moon,'" Cherian said. "That was unfortunately two weeks before she passed on."
Cherian believes the series can be appreciated by modern viewers both because of Angelou's impressive storytelling talent and the program's continued cultural relevance. "I personally found a lot of what she's saying, when you remove the specific figures from the time, is still relevant," Cherian said. "But I want other folks to see it and judge for themselves. Some might watch it and think, 'Oh dear.' Others might watch it and think, 'That's amazing.'"
Chair of Africana Studies Dorothy Tsuruta agrees that opinions on "Blacks, Blues, Black!" may vary.
"The series is very useful for scholars looking to get a sense of the history and energy of Black life at that time period, but I think it also includes assumptions, oversimplifications and misinformation," Tsuruta said. It is unlikely, Tsuruta said, that a scholar or historian vetted the series. However, each episode contains something of value, Tsuruta acknowledged, highlighting the dance sequences, jazz sessions and "Angelou's wonderfully contagious excitement about Africa."
The series is especially valuable, Tsuruta added, for its reflection of the spirit of Black pride that informed life "in a big way" at the time. "The series shows the enthusiasm for Blackness and Black pride, how Black people supported each other, the way of thinking that 'Black is beautiful.' Maya Angelou captures that joy, the idea of appreciating Black life, not taking life. It was a time before we had Black youth senselessly killing each other, a time past which is valuable for us to consider now."
As for Furaha, she was thrilled to have the chance to watch the series after decades. "Dr. Angelou's words about how to overcome struggles and empower yourself are still so relevant. I am honored and proud to have been a part of the show, because it makes me part of history," said Furaha, who still actively dances and sings in the Bay Area at age 69. "I must say, I haven't changed very much, except for the grey hair."